The sculpture groups only have 6-8 students , to allow for individual attention and guidance, and for socially distanced space. The teaching style makes the sculpture workshops suitable for all levels, from beginners to accomplished artist working in another medium.
The three hour sessions costs between £30 for regular all-term students, and £35 for a trial or one-off session. This cost excludes clay and firing of the sculpture , which is charged at cost only.
Taster sessions for Newcomers:
New students can try out an ongoing class with a vacancy to discover whether sculpture, the set up, or my teaching style suits them. I recommend at least TWO sessions for a TRIAL : one to build up the still-wet sculpture; a second session in which to carve the dried/hardened clay. Both sessions involve a set of very different skills, all needed to complete a sculpture, and get a taste of what is involved.
Gift Vouchers for sculpture sessions can be offered, with an email PDF or a hand written sculpture postcard sent after booking.
For suitable dates, please contact me by email or phone, and I will research my google calendar
I teach regular Sculpture Classes on  Monday mornings and evenings, Wednesday  mornings and Thursday evenings They last for three hours, from 10-1 , or 5.45 – 20.45,  
Due to Corona, I currently teach adults students  outdoors in the garden and courtyard, under both a canvas and solid gazebo outdoors.
Bespoke Sculpture Workshops
Bespoke sculpture workshops for families, anniversary or celebrations or  groups of friends
With this arrangement, student(s) themselves determine the date and the size of the group ( max. of 7).  Pricing is as follows:
£135 for  one person only (£45 /hour)
£160 for 2 students, £190 3 students, and £220 for 4 students,£240 for 5 students;  £270 for 6 students and  £300 for 7 students, 
Children's holidays classes have been stalled for the time being , due to Corona, and might re-start  once this is safe again. As an alternative , I can offer bespoke family workshops  with students from  no more than two "bubbles", for their own and my safety. Time and day would be by mutual agreement; duration no shorter than 3 hours.
As a teacher, I encourage children and adults to share the studio, as I find that all students benefit from it. The children are calmer and apply themselves more to their work. The adults on the other hand, feel encouraged to tackle a new project, as they see the children approaching the sculpting with  less hesitation.
One-to one tuition might be suitable for a GCSE or A Level student, wanting to complement their art teaching at school; or someone intending to improve their portfolio before applying for art school or an architecture degree; or for an experienced sculpture student, already sculpting in their own studio at home, and bringing their sculptures to my studio.  They might want feedback, pointers to new sources of inspiration, constructive criticism or suggestions for improvement.
Or for someone who wants to avoid groups due to corona risk of infection. Individual tuition can also be offered by Zoom, especially to those who had previous in-person teaching with myself
"This term, I've been fortunate to find an occasional space on Beatrice's very popular sculpting course. This has been a fantastic, life-changing experience for me. Beatrice very quickly gets you started, and then guides you, not only in simple technique, but also in how to make your work appealing and beautiful. She never dictates to you, but offers advice from her years of being a wonderful sculptor herself. I really couldn't recommend her course enough – my only reticence comes from not wanting her to get too busy so I can still find space on her courses. I have so much to learn!"
"I joined Beatrice's sculpture classes as a complete beginner after my son attended one of the summer workshops. I thoroughly enjoyed the time spent sculpting. I found it so relaxing – thoughts of everything else just melt away. Beatrice is a very good teacher and always pushes you that extra mile to improve."
"Beatrice's sculpture workshops have been very inspiring. I have enjoyed every minute, learnt a lot and spent quality time with like minded people. Highly recommended!"
"I have never sculpted before and I undertook the ambitious task of my dogs head. I can honestly say I have really enjoyed the classes, Beatrice has taught me so much about sculpting. The sessions are very relaxed, where you can go at your own pace. Beatrice's style of teaching is informal, which I much prefer, providing help as and when was needed. Her extensive experience gently instructed me at each stage of my sculpture, which helped me over come problems and aided me to move my work along. I can highly recommend the classes."
"I love these classes. I love the teacher, the group and the activity. I find myself totally absorbed in what I am doing, leaving my day to day worries completely behind. Beatrice is a very good teacher and gives encouragement and guidance whenever needed, and her mantra that mistakes are an important part of the creative process helps build confidence that there is no right or wrong way of doing things. I'm very pleased with the sculptures I have produced over the four terms that I have attended, in spite of much self-doubt along the way. If anyone says to me -I couldn't do that- I say - I'm sure you could-"
"Fantastic class. Beatrice is a brilliant artist and a very warm host. Her knowledge of sculpture is fantastic and her eye for detail is great. She's never afraid to tell you or show you where a sculpture doesn't work and how to rectify it."
"I enjoy our sculpture workshops very much and look forward to start again in a few week's time – I need that "getting away from it all" time!"
"A wonderful course. Learn-as-you-go in a relaxed atmosphere. Be inspired by Beatrice's works which are displayed everywhere and by the talent of fellow students. Beatrice is encouraging, straight talking, knowledgeable, patient and kind, I thoroughly enjoyed the 2 days and I learned so much. Highly recommend it."
"Following a break from making sculpture, Beatrice's 2 day course was the perfect way in which to 're immerse' myself back into making. Beatrice is incredibly attentive and helpful, offering constructive feedback in a supportive and encouraging way. The small group sizes also enable sufficient opportunity for one-to-one support and in depth conversations about the sculpture making process, as well as group discussion. Thank you very much – I am so glad I decided to attend the course and look forward to hopefully signing up for more!"
"I went to Beatrice's class as a taster session, a gift from my husband and soon found that I loved it! Beatrice is informative, talented and encouraging and it opens my mind to the artistic side of life! I love being "an artist" for a few hours a week and developing a side of myself that was buried deep within."
"Beatrice's workshops are unique. Each participant is free to choose his or her own direction and there is a treasure trove of photographs and books and models for inspiration. She is a very attentive and intuitive teacher who seems to be able to tune in to the needs of each of the participants, whilst still imparting her knowledge to the whole group. The variety of sculptures produced by the group speaks for itself. There is enormous satisfaction in taking a lump of clay, and over the course of a number of weeks, fashioning it into whatever you want, only limited by your imagination and the end of the class. It is the most concentrated 3 hours in my week and the time flies by!"
"I came for a one off session and became completely addicted to the pleasures of sculpting with clay. I have now been coming for over a year and find it a really enjoyable, creative and therapeutic outlet which is totally engaging for the duration of the session. Beatrice is an excellent teacher, who shares her vast knowledge and enthusiasm for sculpture and demonstrates many general sculpture techniques. She is patient and encouraging and gives you just the right amount of help and guidance whatever your age or ability. I highly recommend Beatrice's sculpture workshops and her sculptures around the house, studio and garden are inspiring."
"These classes are brilliant , Beatrice is an excellent tutor, good fun, good learning and very good value for money ! I'm well and truly hookes, had never done sculpturing before until about 6 months ago!"
"Beatrice is a wonderful teacher who is calm, patient and inspiring. She has helped guide me through the process of sculpture which has enabled me to get back to being a creative person after many, many years away from creativity. She advises on a number of different techniques and always explains why we do a particular technique. When helping to improve your work she explains the art theory behind her advice but always allows you to evolve your work – just with the help of her expertise 🙂 I have had such a great time doing two terms of sculpture and I am looking forward to more!"
"These are great workshops. Beatrice is a patient and encouraging teacher. She helped me to get over my self-criticism and enjoy turning a lump of mud into an object that only I could have produced. And she helped those objects become more and more expressive with each lesson. The location takes a bit of travel, but it is worth it: a sunlit conservatory in a lovely, sculpture-filled garden."
"Sculpture classes are an oasis in my week. A time to learn and be creative in convivial company. Beatrice imparts her expert knowledge and understanding to enable each of us to develop our own ideas. I have had fun, learnt lots and made progress. Thank you Beatrice."
"Beatrice is an excellent teacher, incredibly patient, knowledgeable and enthusiastic. I came to her class as a complete beginner after visiting her studio during Art Weeks. Beatrice was so friendly and welcoming I just wanted to give sculpture and clay modelling a go. As a complete beginner I've found the classes to be really friendly and supportive. Beatrice is an excellent teacher: she sees things in your work which you weren't aware of, and she helps you develop your skills so you end up with a really nice piece of work – something which you can be proud of. Doing the actual sculpture / clay modelling is very therapeutic and relaxing – I would recommend it to everyone as a great way to alleviate stress."
"My friend and I had a really enjoyable day. The group was small, about six of us ranging in age from about 14 to seventies, making for a relaxed and friendly atmosphere. We were all completely absorbed in our projects, with Beatrice on hand providing support, timely insights and technical advice whenever needed, all in the beautiful environment of her sculpture-filled garden. The time flew and I came away feeling completely inspired. A truly satisfying experience, which I would highly recommend. Thank you Beatrice, it was wonderful!"
"I look forward to the weekly class with Beatrice from the moment it finishes when I return home exhilarated and exhausted. Beatrice is both a successful sculptor and an inspiring teacher. Our class embraces a variety of styles of sculpture and Beatrice both helps and extends our resulting achievements by her gentle but rigorous tuition. Our talk is not limited to our own efforts but Beatrice has references and examples from all ages to broaden our outlook. Her own work is assured and both wonderfully inventive and professional. We also have great fun and at 76 of age this is an elixir!"
"I look forward to the weekly class with Beatrice from the moment it finishes when I return home exhilarated and exhausted. Beatrice is both a successful sculptor and an inspiring teacher. Our class embraces a variety of styles of sculpture and Beatrice both helps and extends our resulting achievements by her gentle but rigorous tuition. Our talk is not limited to our own efforts but Beatrice has references and examples from all ages to broaden our outlook. Her own work is assured and both wonderfully inventive and professional. We also have great fun and at 76 of age this is an elixir!"
"I am a newly retired lady who is trying to tap into her creative side and I have really been able to let that flow in the sculpture classes run by Beatrice Hoffman. Beatrice is inspirational , charming and so knowledgable. Beatrice takes the time to work with you to find out your inner passions which she then develops with you. The classes are thought provoking and you are totally absorbed in your work. All the students are full of passion for their work, but it's also fun and friendly. I feel I have started to find a passion for sculpture that will develop more and more with each class. Thank you Beatrice I love being part of the Daventry group."
"I have really enjoyed your Sculpture Workshops, I have learnt such a lot. I know I have mainly made heads, but the wealth of knowledge you have is tremendous. You have put me right many times. It all goes in though and I remember it all. The time goes really fast when we are in sessions. I look forward to making many more heads all a bit better than the last one, I look forward to the next term."
"I have been a student under the tutelage of Beatrice Hoffman for some years. She is a rigorous and empathetic teacher, bringing out the best in students with encouragement and vision. I have learnt so much and value her criticism and wide knowledge of her subject and art history."
"Beatrice manages to further her students' skill sets while at the same time encouraging original work and growth of the individual's imagination. This results in an enjoyable and fulfilling experience and there is even something to show for it when a project is finished!"
"As a person who has never been involved in Art Classes, it came as a pleasant surprise when I first went to Beatrice's sculpture class. Two lessons were bought for me as a present and what a surprise. The classes are a real pleasure to go to. The pupils have all gelled and there is always a lot of chat. One learns without realising it and Beatrice like the true professional makes the use of a tool look easy and yet she inspires. I would say to anyone give it a go! It's great fun and one begins to understand more clearly how brilliant the masters of the art were."
"Our family (2 adults + children aged 9 and 11) attended 2 days of summer workshops and had the best time. Beatrice is an encouraging and patient teacher and we all learned a lot and created things we didn't think we were capable of. And yes it was great fun for all ages! highly recommended."
"My 11 year old son and I did a two day workshop with Beatrice. She is an excellent teacher, very knowledgeable, inspiring, encouraging and patient. She is also very intuitive in knowing how to provide the right support to get the best from an individual. The workshop is a lovely space to work in."
'We enjoyed a birthday sculpture workshop with another family to celebrate my son's 10th birthday. We were a cosy group of five people -2 adults and 3 kids – and it was the perfect size. A fantastic way to engage kids in purposeful activity under the encouragement and tuition of a skilled sculptor that is Beatrice Hoffman. Highly recommended to kids and adults who are interested in experiencing the joy of creating clay objects with their hands.'
"Olly (18) and I SO enjoyed our morning with you yesterday and wanted to thank you very much. It was a wonderfully relaxed, happy environment with just the right amount of help and supervision. Bringing your gifts and knowledge of sculpting and teaching together meant that we benefitted greatly!"
"What a fantastic activity for children and adults alike. My daughter has loved the pottery mornings and wants to do more. Beatrice is always encouraging to pupils in their ideas while offering excellent advice on how to achieve success in sculpting."
"My 11 year old son attended the February 2019 half term 2 day (mornings) sculpting course. He was a complete beginner and really enjoyed his first experience of working with clay and over the 2 days sculpted a cheetah, with which he is delighted! Beatrice was very approachable and the whole group clearly had a fun, and very productive , time!"
"My son has now attended two of Beatrice's holiday workshops and he has thoroughly enjoyed the experience; he has particularly liked the freedom he's been given to choose the subjects for his sculptures and it is clear he's learnt a lot from Beatrice in a really short space of time. I wouldn't hesitate to recommend these workshops and in fact I very much hope to be able to attend one myself at some point in the future!"
"How fortunate we were to have been recommended to Beatrice's courses – the opportunity to learn from such a skilled sculptor who is also an arts educator and a therapist is rare! My 14 year old daughter attended her second course with Beatrice summer 2018, (the previous one was 18 months ago), and once again she thoroughly enjoyed it & produced a beautiful sculpture. Beatrice allows the participants to choose what to make, but provides many ways to inspire her students with animal figures, photos & other student's sculptures. Beatrice is an amazing teacher, providing guidance, advice & helping the students to develop their techniques."
"Thanks for the really enjoyable course. My boys came away bouncing up and down saying 'can we do another session please?!'. I love your teaching approach with the children and it's such a lovely relaxed atmosphere."
"My 10 year daughter attended two sculpture courses with Beatrice this summer as she enjoyed the first one so much.  I was very impressed with the results and could see she has learnt a lot, particularly about proportions and looking at more detail.  So nice to find something local.  We will definitely be attending again."
"My child enjoyed the sculpture workshop immediately – it was a sociable and informal atmosphere and he achieved real success in a very short time. I would strongly recommend this course."
"Izzy really enjoyed your sculpture workshop. She really liked the fact that she could be freely expressive but with lots of technical and moral support from you. She found you to be friendly and approachable and the class atmosphere both relaxed and fun. She also liked the fact that you had so many resources in the room that she could call on for inspiration."
"My child enjoyed the sculpture workshop immediately – it was a sociable and informal atmosphere and he achieved real success in a very short time. I would strongly recommend this course."
"Beatrice has taught my daughter Emily , and has also taught many of her friends. I can speak for them all in saying that they love doing sculpture with Beatrice, and are incredibly proud of what they produce.Although the sessions are 3 hours in length I am always amazed by how enrapt they are in what they are doing when I arrive to collect them, I have been very impressed by Emily's progressing she's started, I know from Emily that Beatrice is very good at teaching them the basic skills at the outset, and at encouraging them to develop their own ideas, and to have the confidence with their imagination and ways of expressing themselves. She is a very kind and patient teacher who is passionate about what she does I would not hesitate to recommend her."
"My two daughters, aged 8 and 12 both thoroughly enjoyed the sculpture workshop over the school holiday. They wanted to go each morning and were both very pleased and proud of what they made under Beatrice's expert guidance."
"My 12 year old daughter has very much enjoyed this workshop and learnt a lot. Beatrice is very knowledgeable and relates well to children. She is patient but doesn't talk down to children and encourages them to reach their full potential. Would recommend any budding sculptors to try this workshop out!"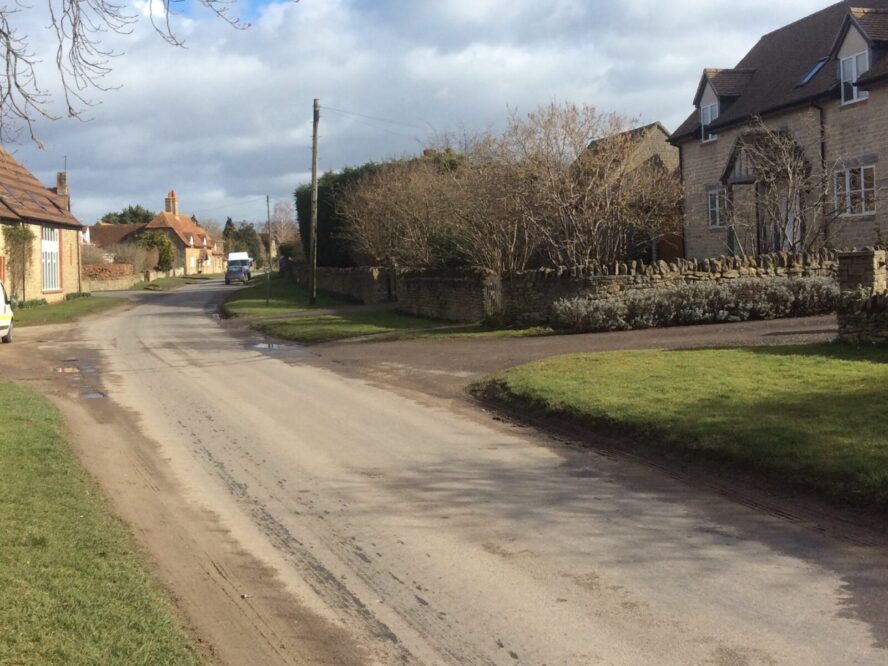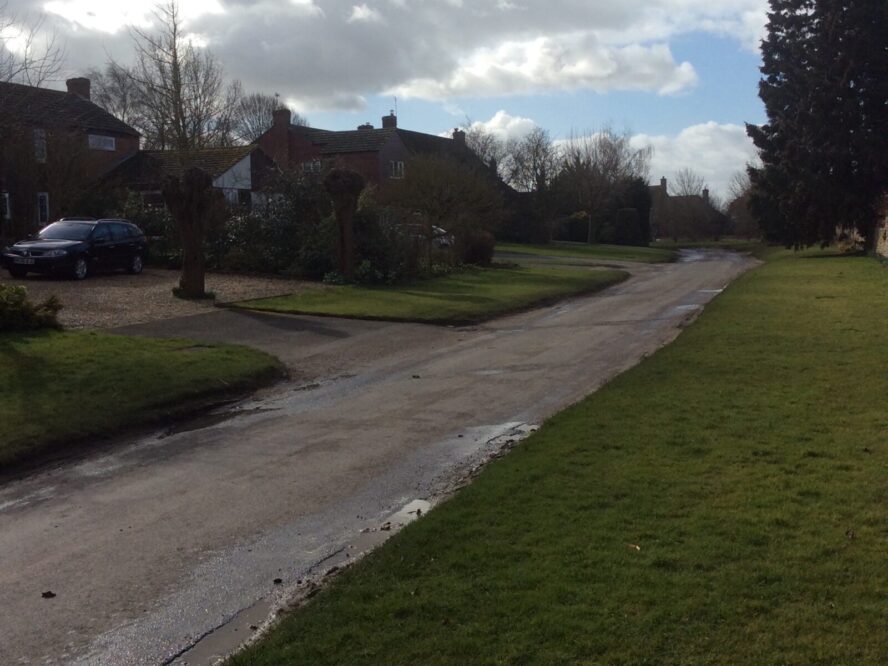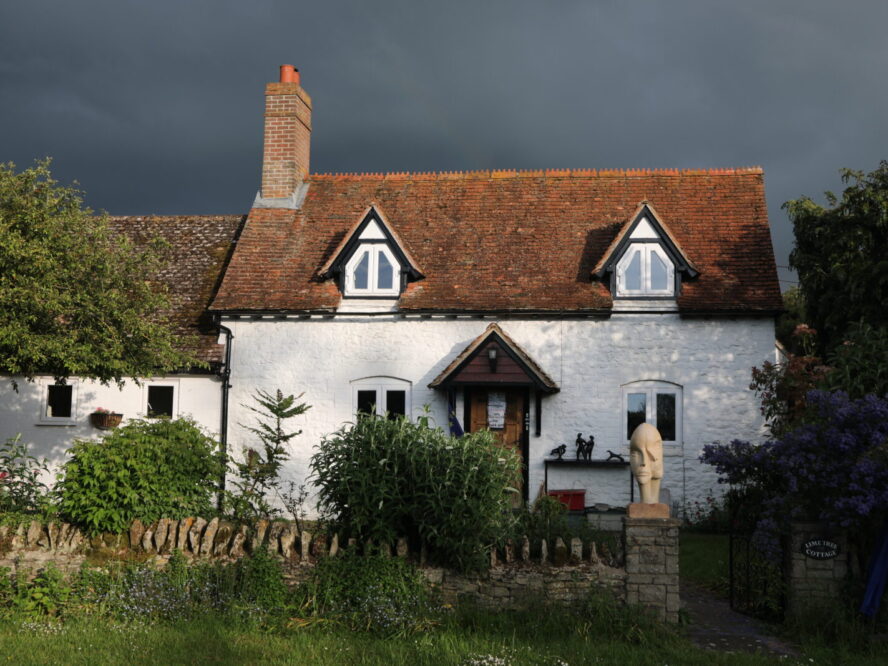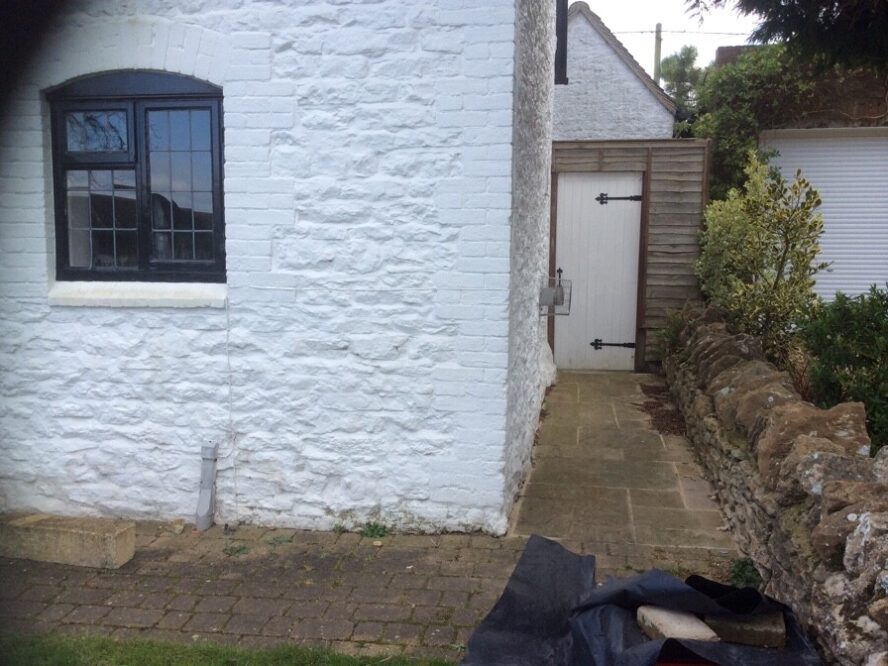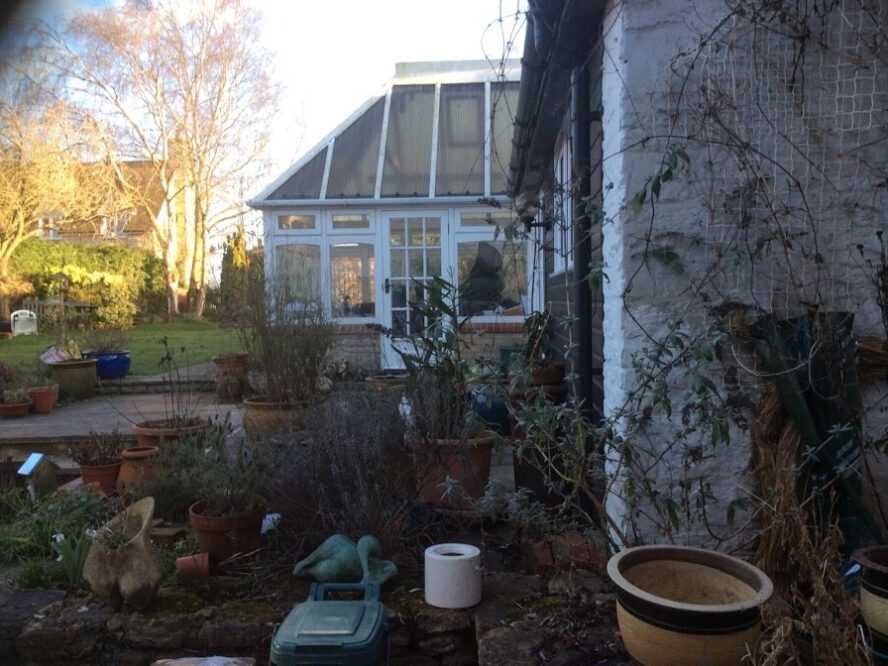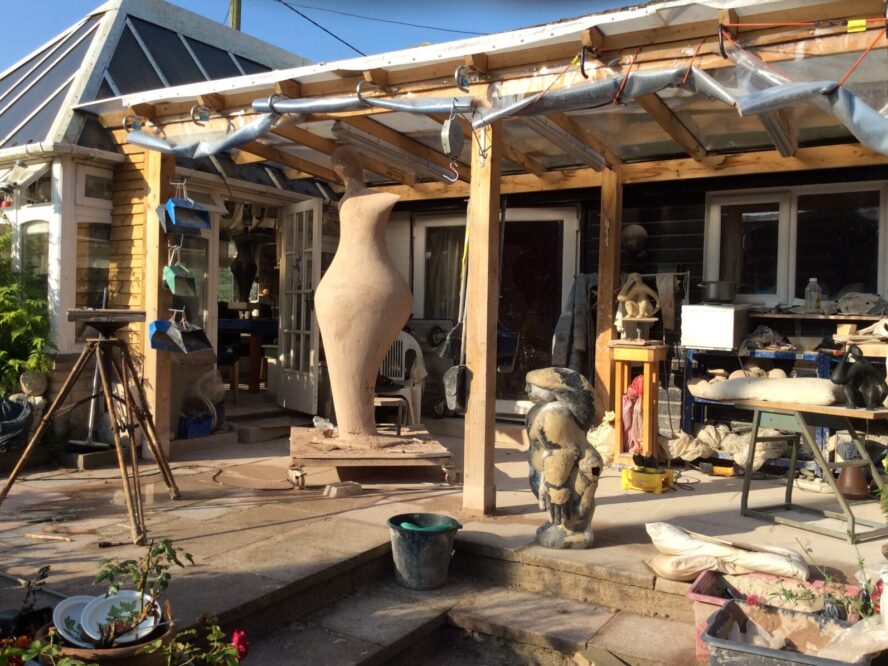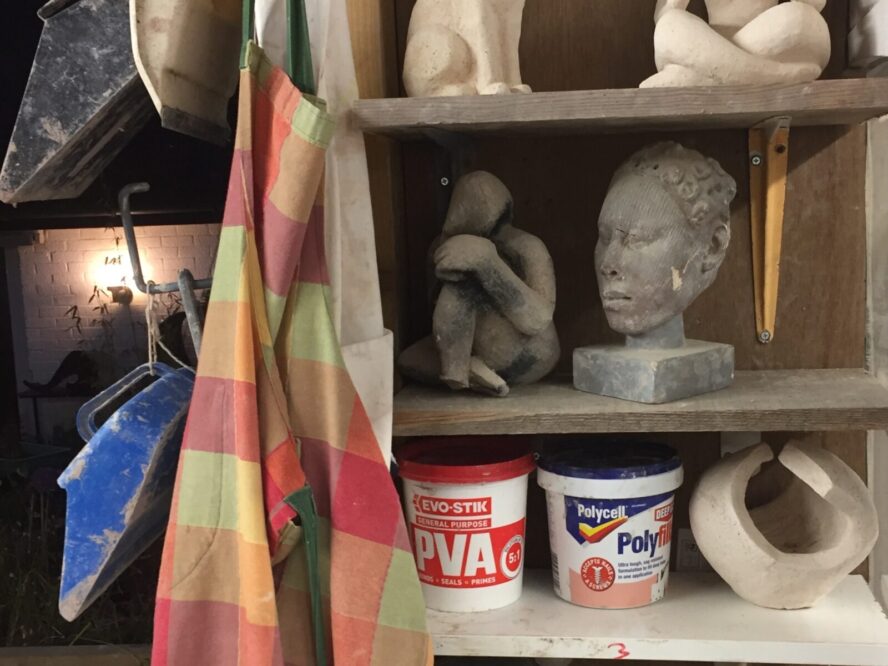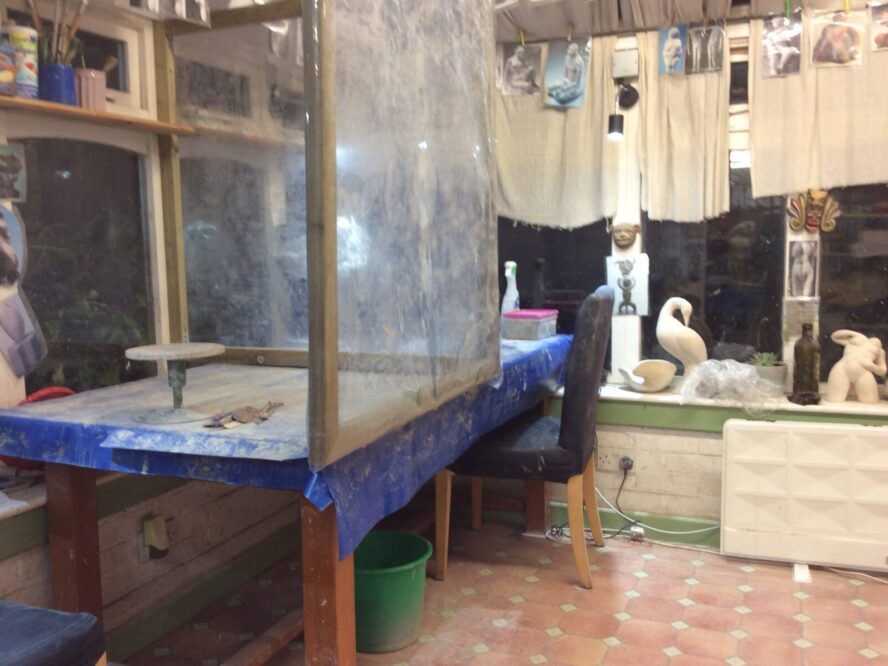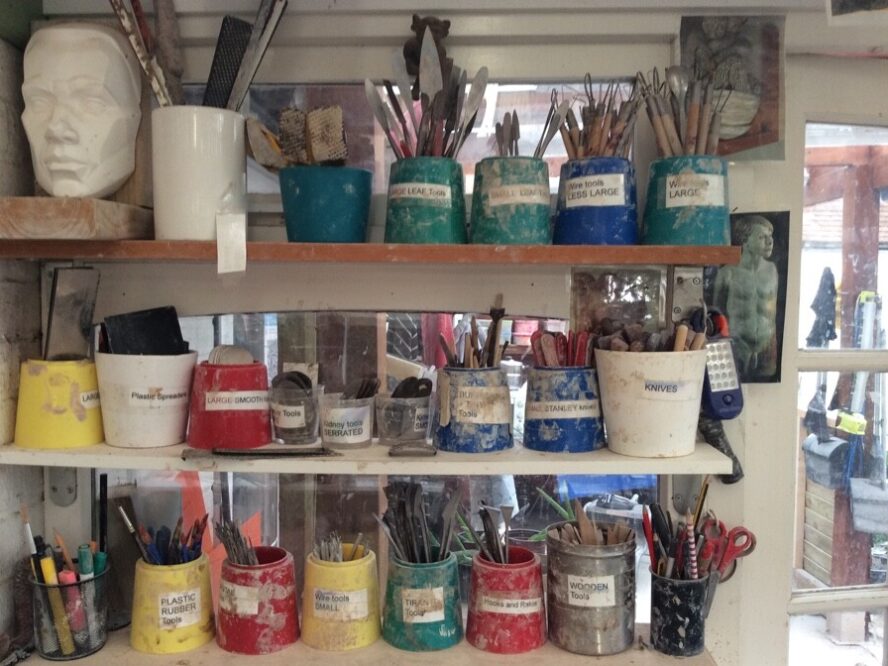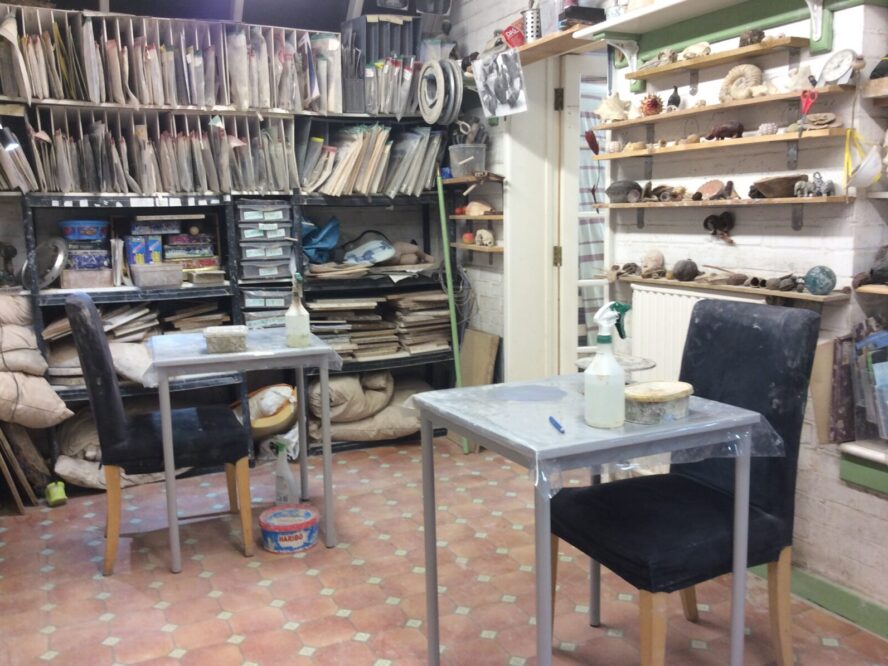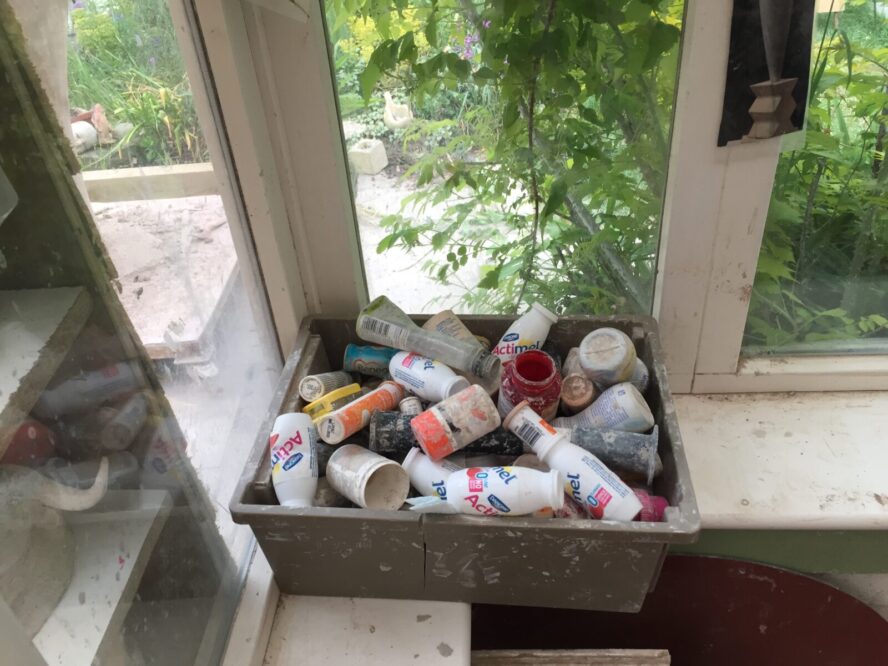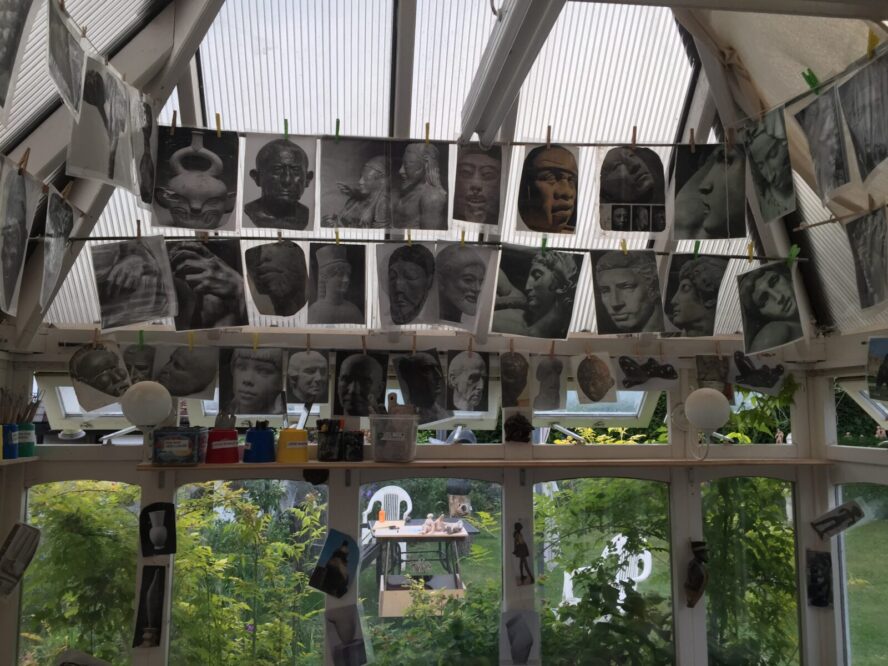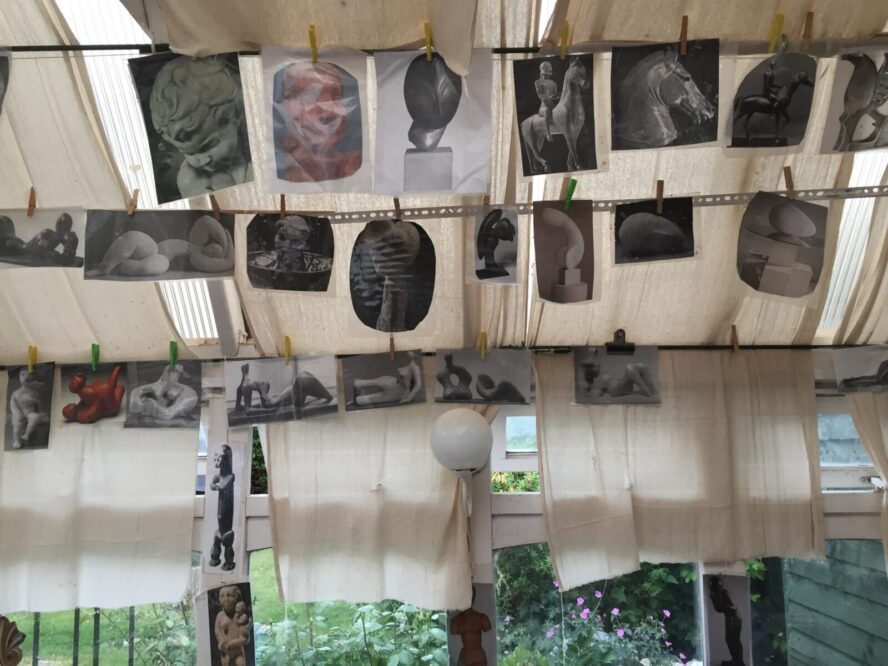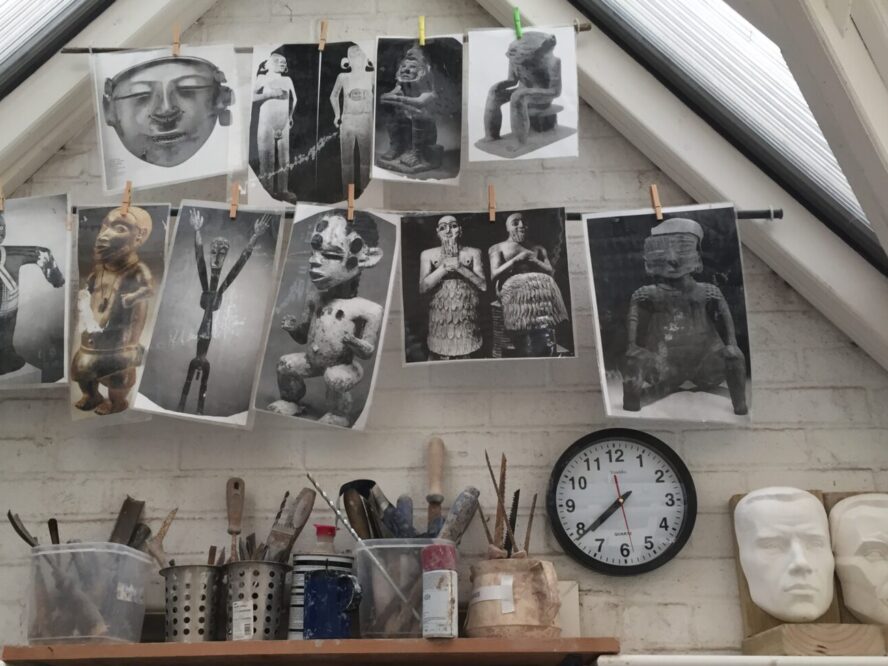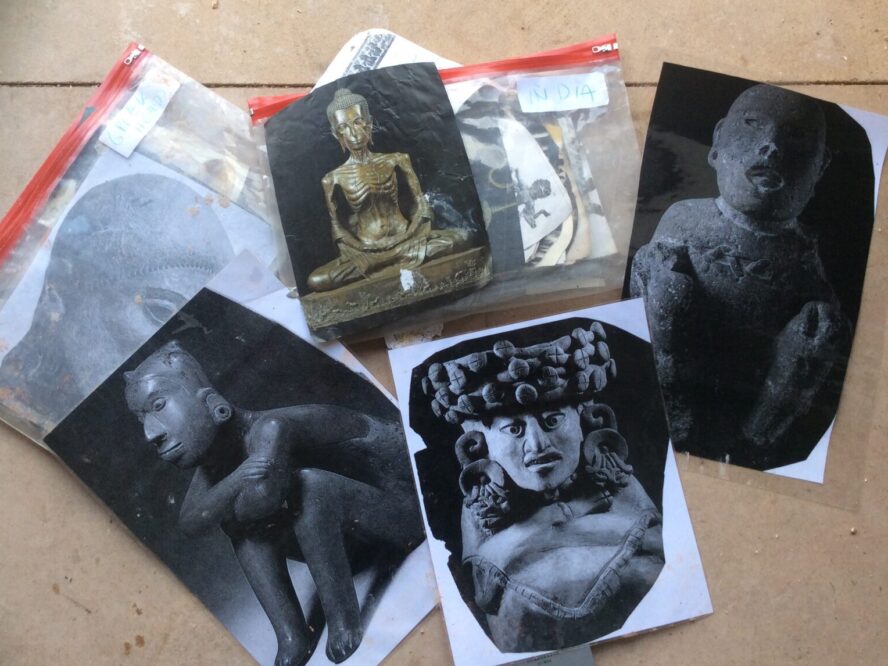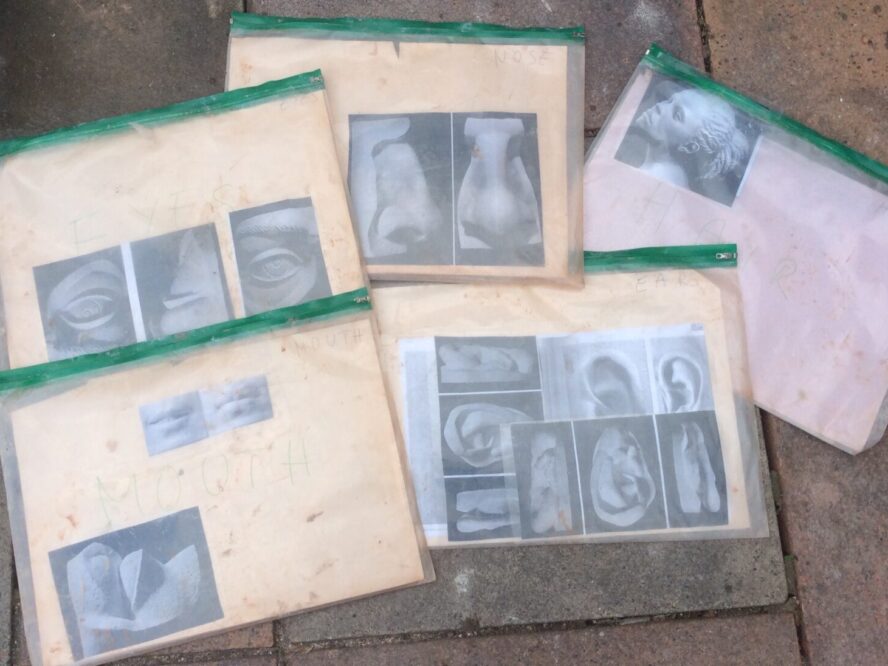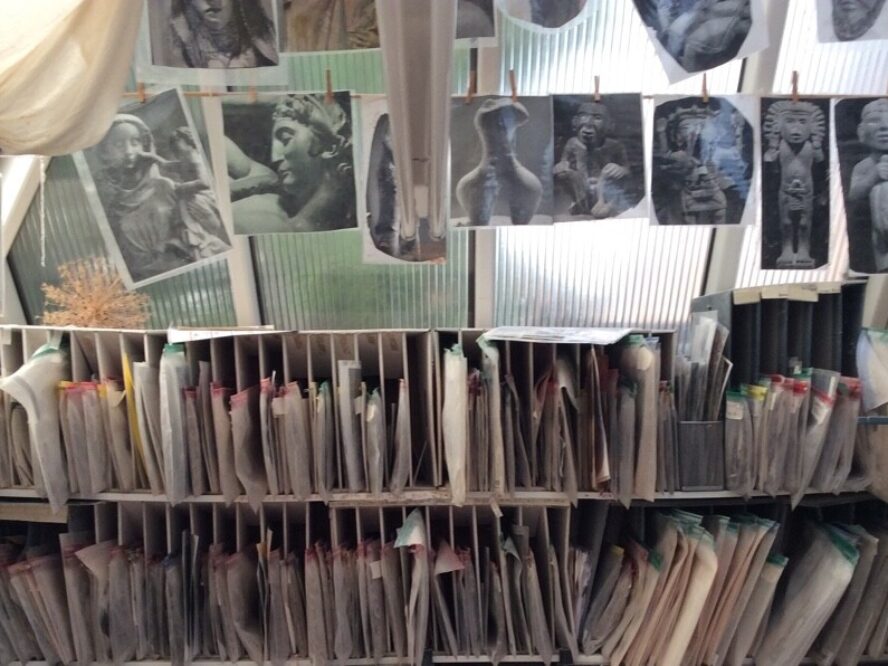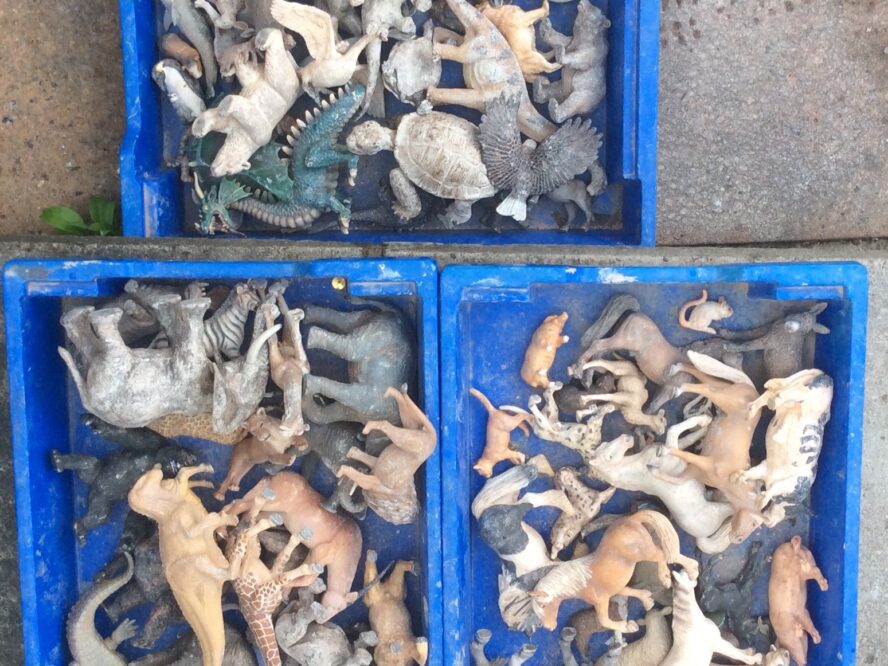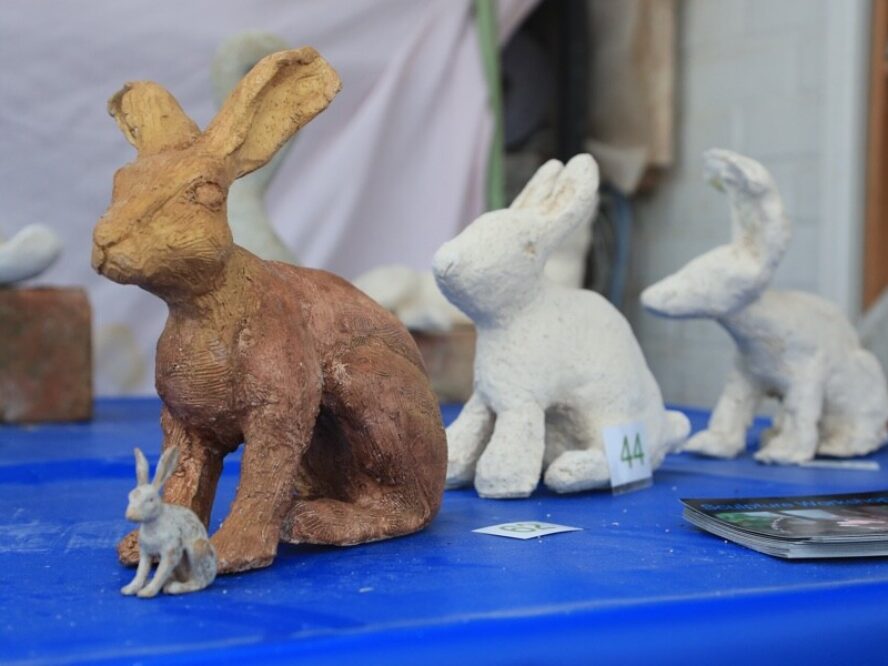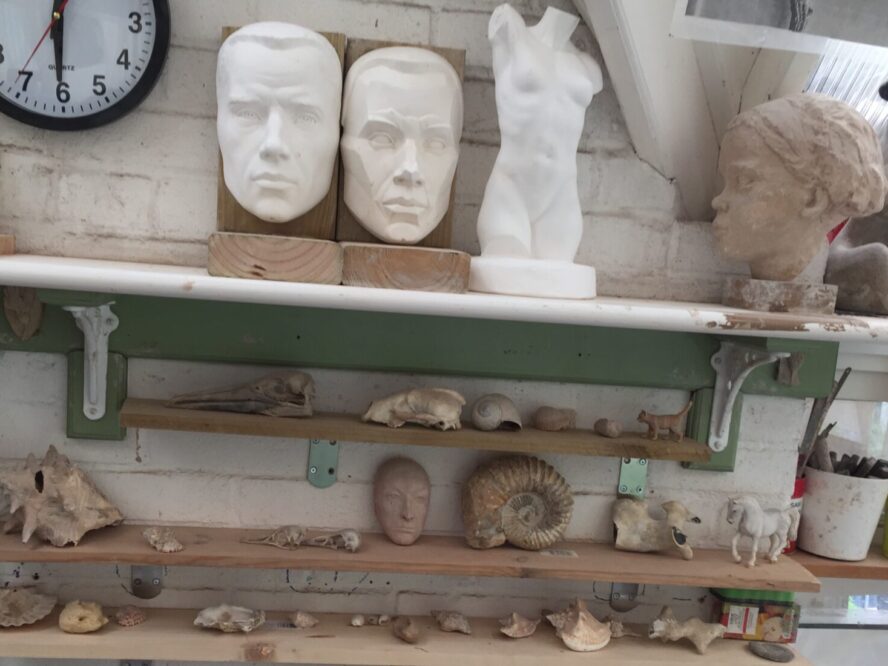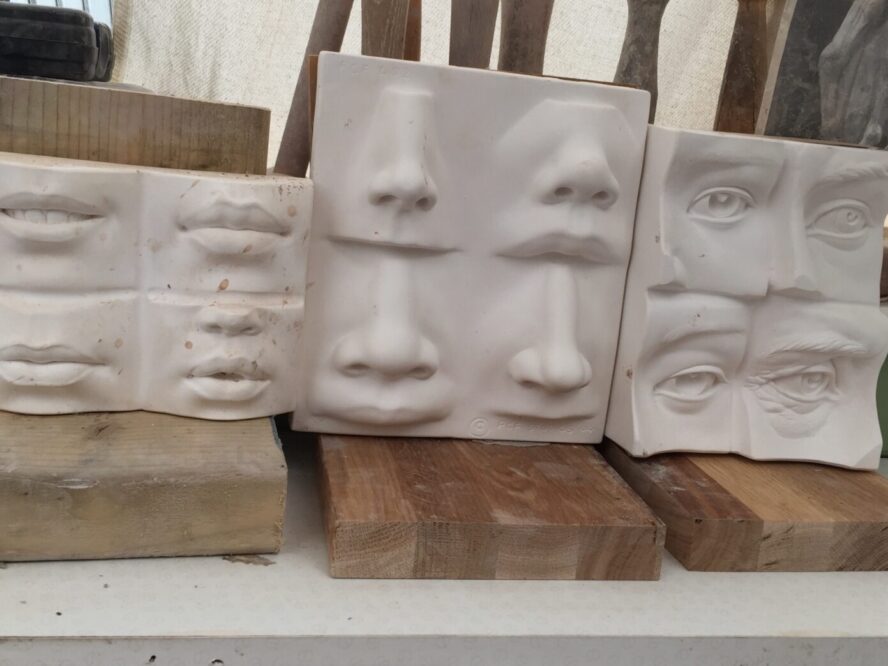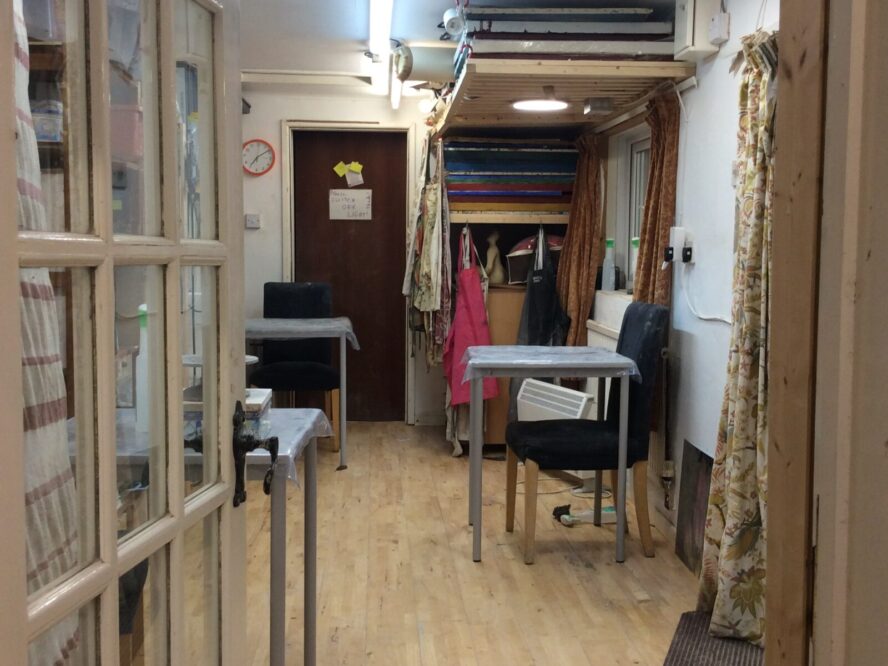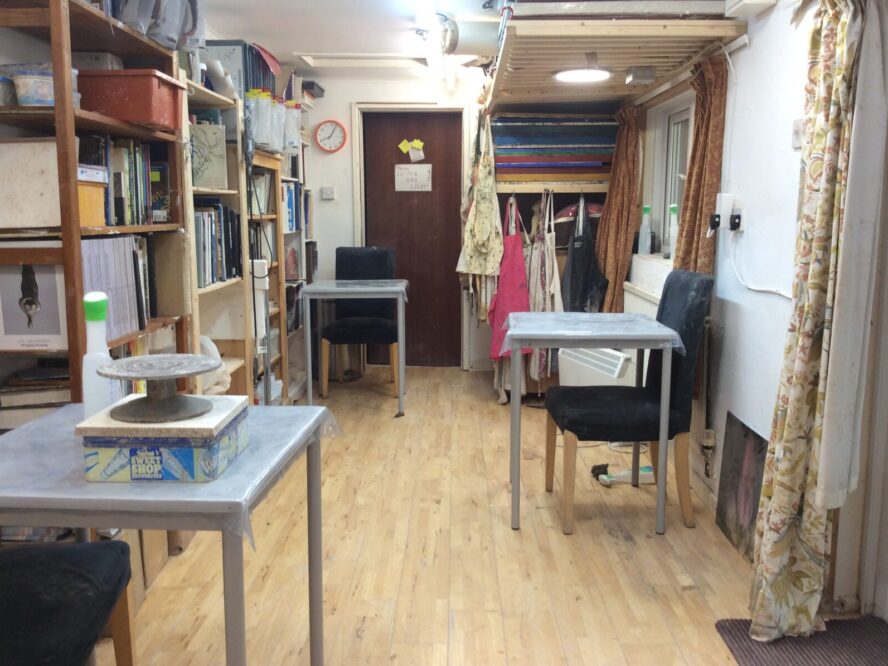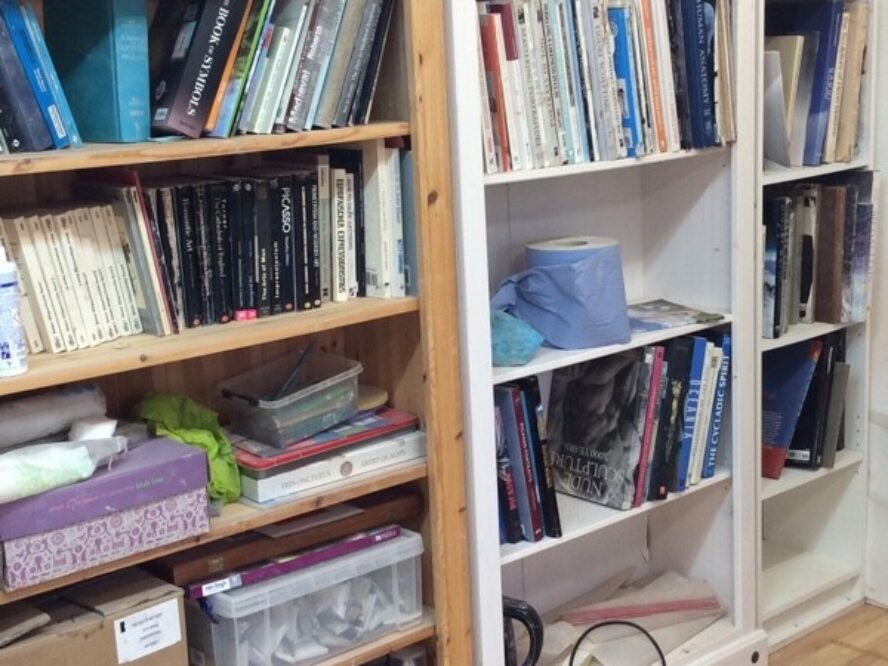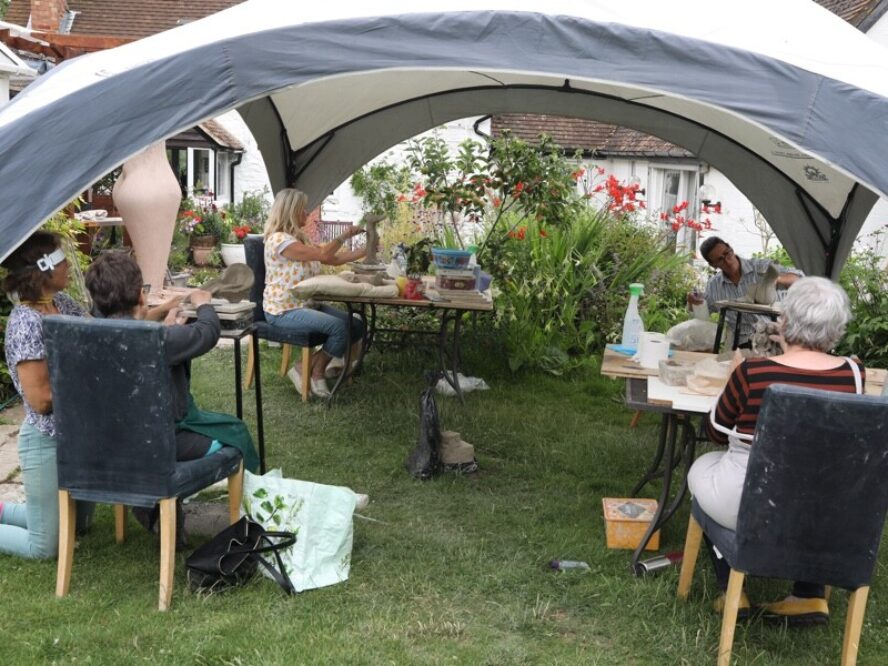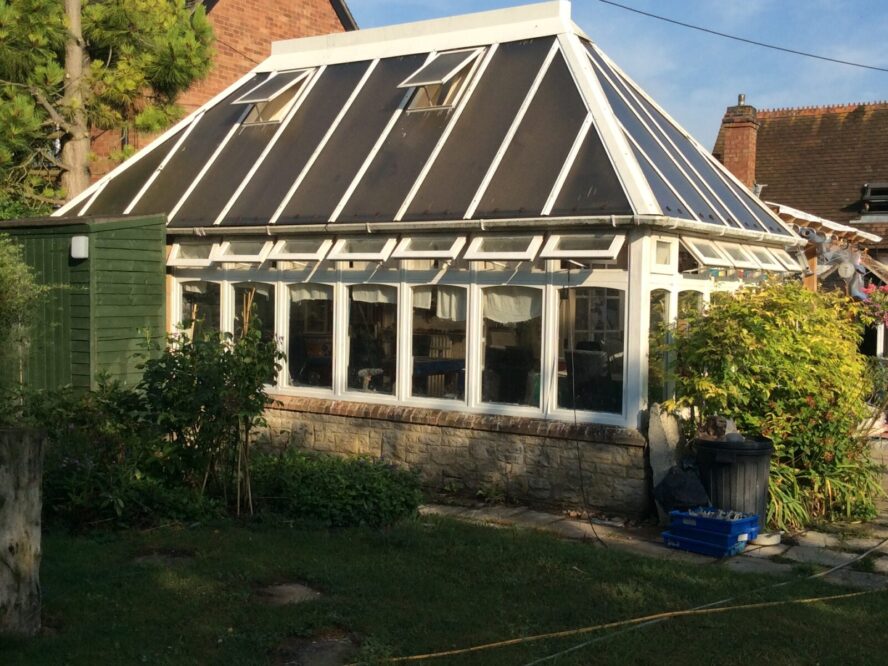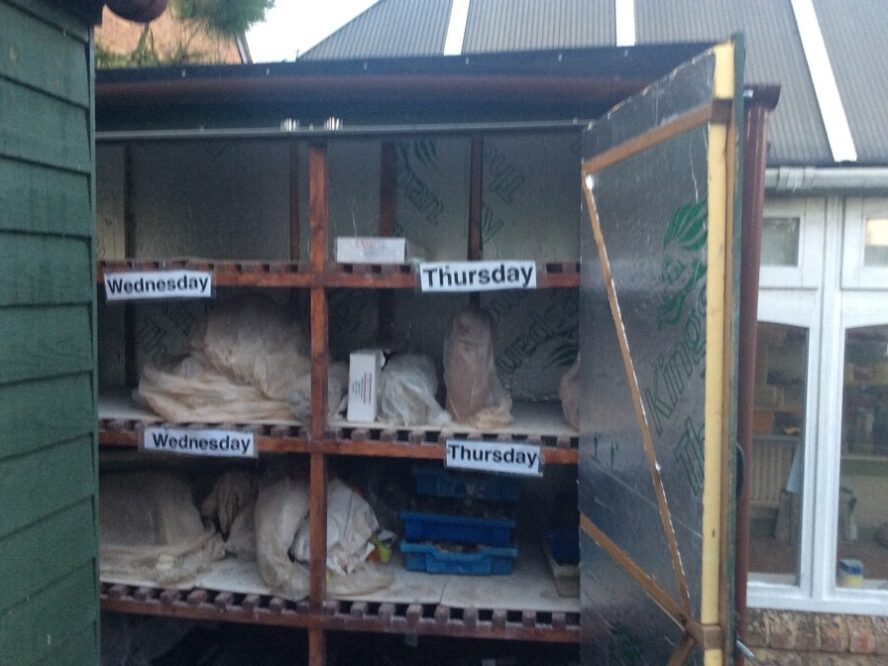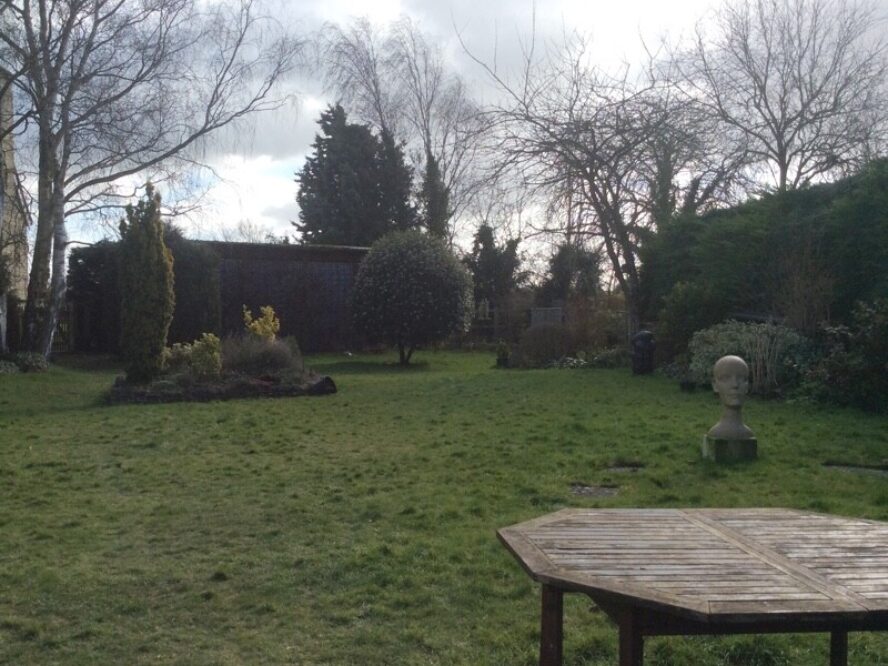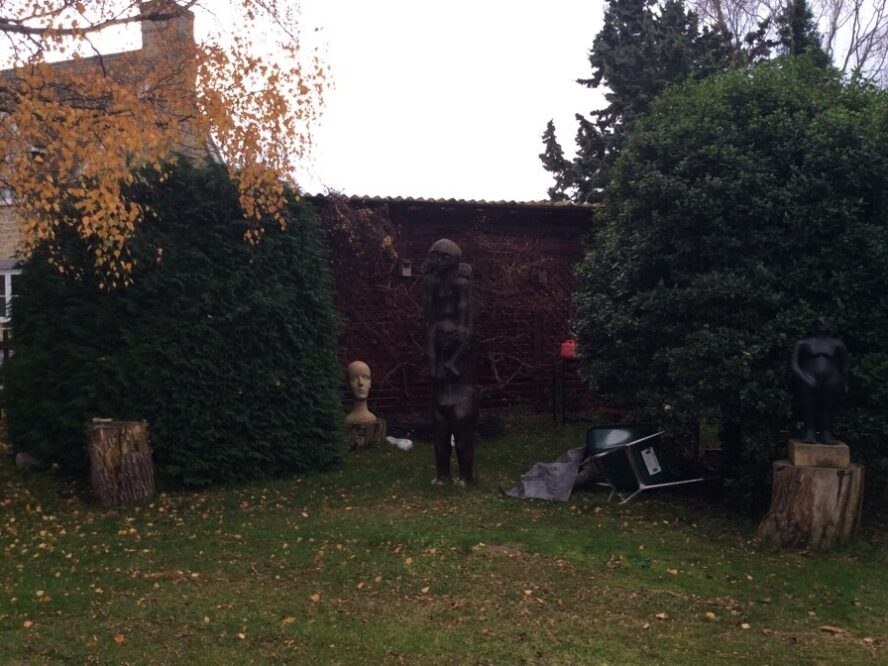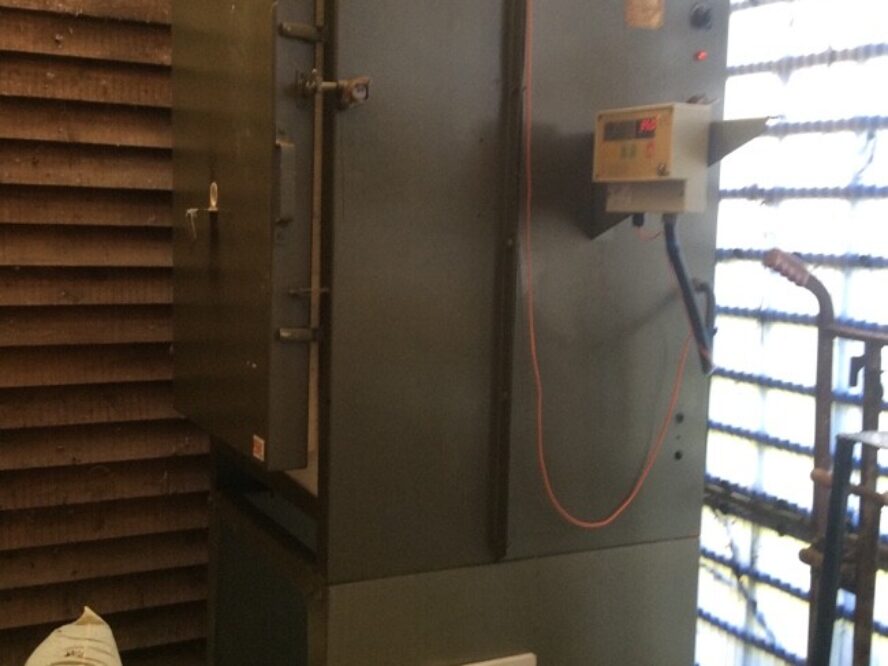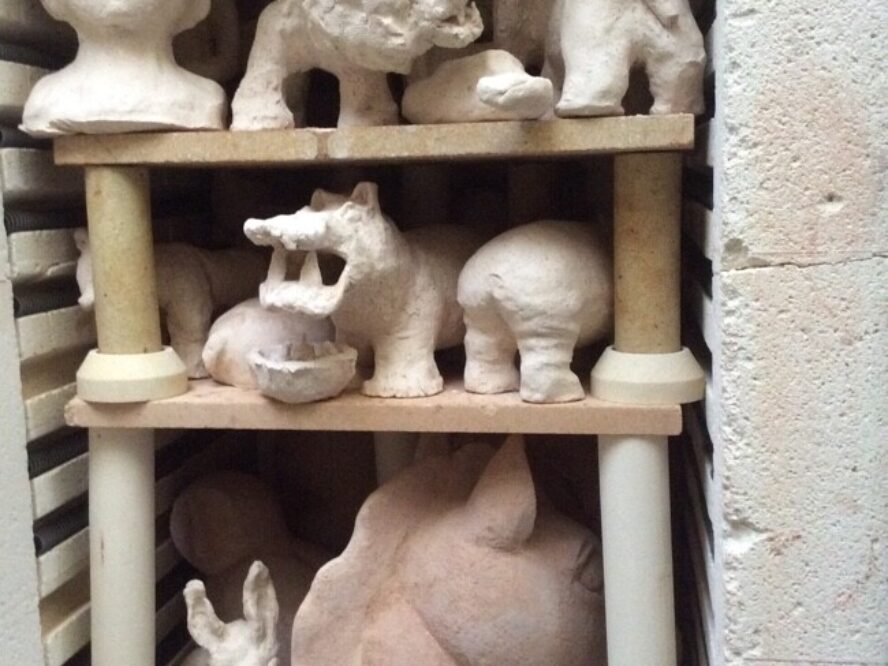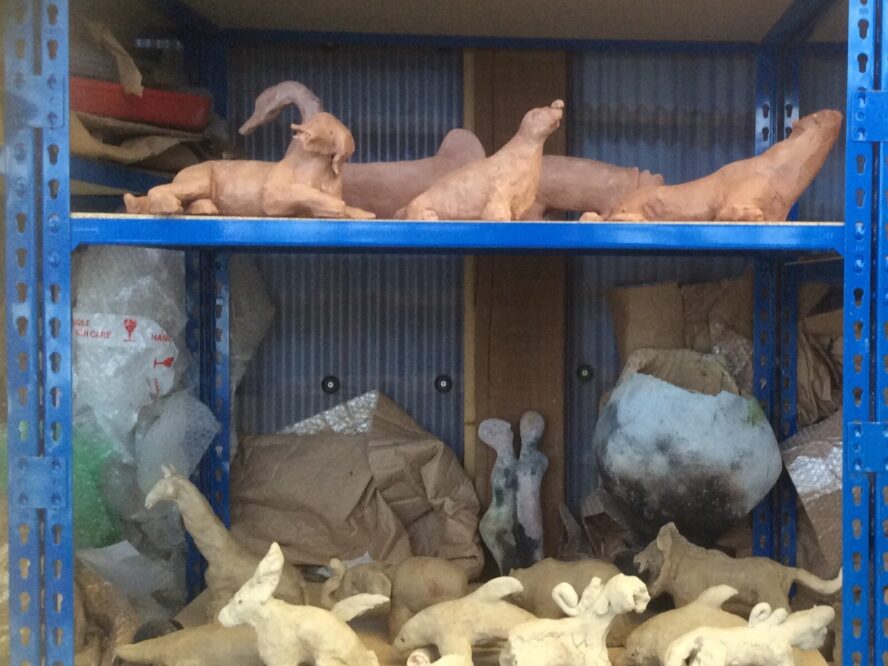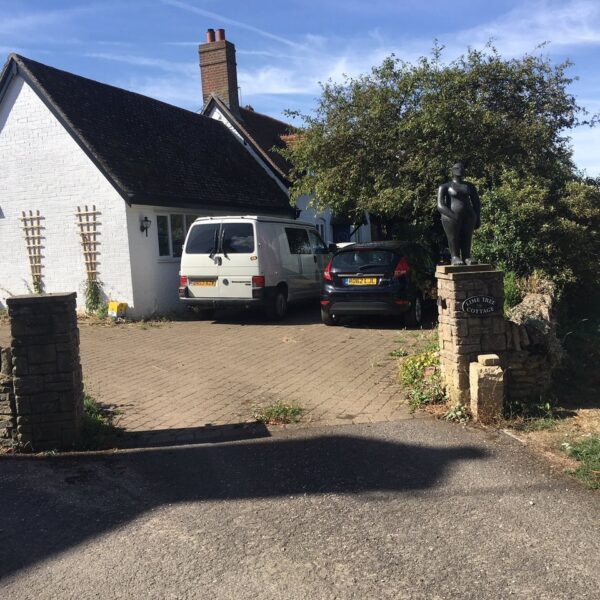 I  teach in my home and studio in Garford, near Oxford.
The address is: 
Lime Tree Cottage, Garford, Abingdon , OX13 5PF
Coming from Oxford on the A420, turn left at the round about onto the Wantage road; A338.
Please park in my drive way and on all of my front garden. PLEASE DONT PARK on the green beside the road, or on the opposite side of the road.
I am straight past the Frilford junction (with two sets of lights, and a Shell petrol station on the left hand side ),  staying on the A338 towards Wantage; after  2 minutes of driving, just after a  set og sharp bends over a  small bridge , take the FIRST right towards Garford.
If you miss this turning, take the next one.
In Garford, coming from Oxford,  I am on the left hand side, passing the village hall, and arriving  on the third driveway AFTER  the war memorial.
 If you passed the gate post with the sculpture on top, you have gone too far . Reverse in "Dairy Meadow",  the next road on the right hand side ( and please not in the next doors neighbour's driveway –  he would complain to me!).
Arriving for the first time
Take care with the parking  –  as you arrive earlier, you can take the first space close to the garage.
Walk past the main  house entrance door, round the corridor to the back gate, to find the studio  in the back garden. You will find the disinfection station on the way.
The studio is spread over two rooms and a gazebo area between them , and your own prepared small table awaits you in one of the rooms.
In the warm season, during Corona, I teach in the garden under a canvas gazebo. Please have a look through the " Sculpture Studio " Slide show !
Your First Session
If you can arrive 15 minutes before the start, so I can show your round the studio, garden and kiln shed, and we possibly could find topic for a sculpture that will inspire you for the session.
You will be joining a regular class, with all levels of experience and skills represented, and all manner of styles and topics of sculptures. In my experience, this works to your benefit , and will help you absorb the skills and confidence present in the group.
Aprons you can find just before the toilet in the back off the side room. Coat hangers are just outside the side room , to the right. You can leave your belongings ( bag) beside your own table.
Tools sorted in many containers, are  found to the right , as you enter the conservatory. I have collected so many different tools, as I believe that the right tool for the job  is  essential  to help you manipulate the clay surface, and thereby acquire sculpting techniques. So over the course of a few sessions, you will be able to try  many tools, and  discover  for yourself what they uniquely can achieve for you .
Your table will have:
a turntable/lazy suzan on top of some boards and tins (

 

to adjust for the sculpture to positioned at your eye level);
some

 

of the tools you will need,
pre-hardened hard

 

clay to start a new sculpture;
middle hard clay in a close plastic tub.
Underneath your table you will find cleaning materials for the end of session.
You can bring your own ideas long –  or come along without one, and be inspired  by the sculptures, teaching materials  and images you will discover.
If possible , I prefer that you start for your first sculpture  with a 3D model of some kind  –  be it  a toy  animal,  a sculpture by myself or left behind by other students, or something you bring along.
This will help you a great deal observing and copying the all round views of the object you want to create –  not easily done from one photo /view alone!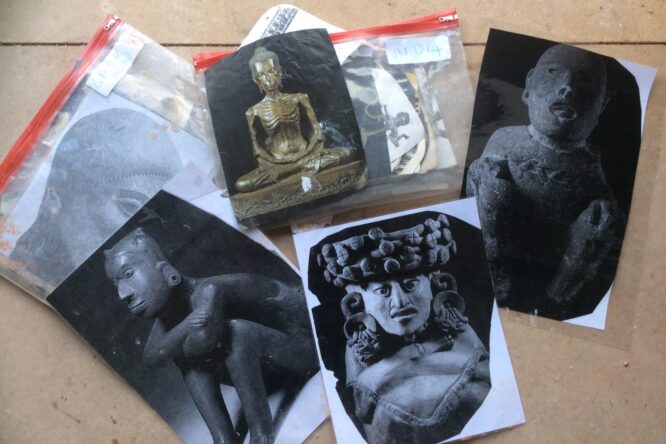 To further help finding relevant visual information to start a sculpture, I have built up an extensive library of sculpture books and laminated images containing
1. Sculptures from different historical periods
2. Sculptural instructions (making a head, an animal… )
3. Photographic references
4. A large collection of realistic, (Schleich) toy animals
5. Some 3D plaster teaching materials (facial features, torso.. )
6 A collection of natural objets ( seeds, shells, skulls)
7. I have created an online gallery of sculpture images from various art historical periods, or contemporary sculptors.
Or you simply can find a sculpture, by myself or left behind by some students, that initially interests and inspires you to get started on your own sculpture . This might ( or might not) soon take on a life of its own, and move you on into your own direction , away from pure copying and observation.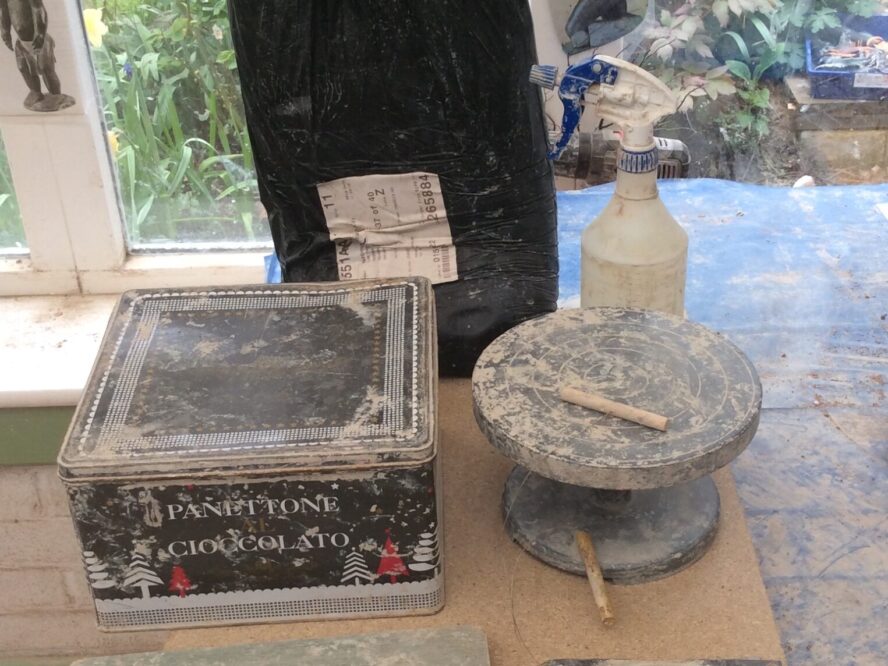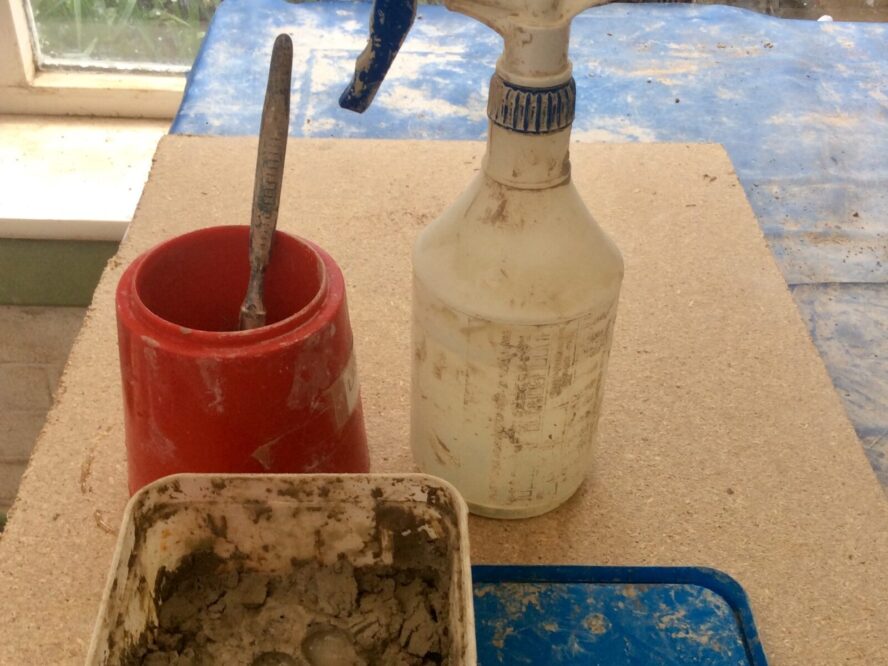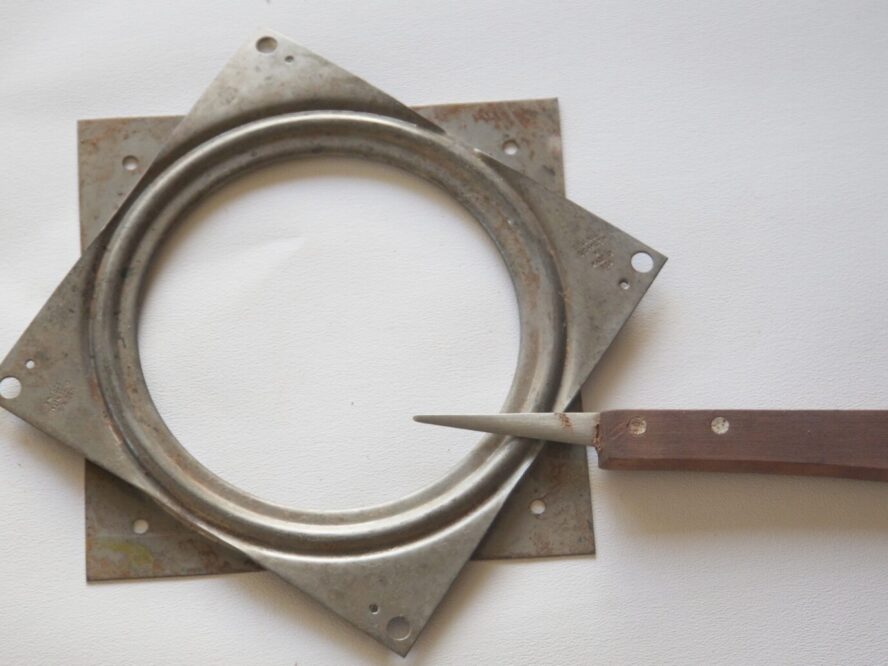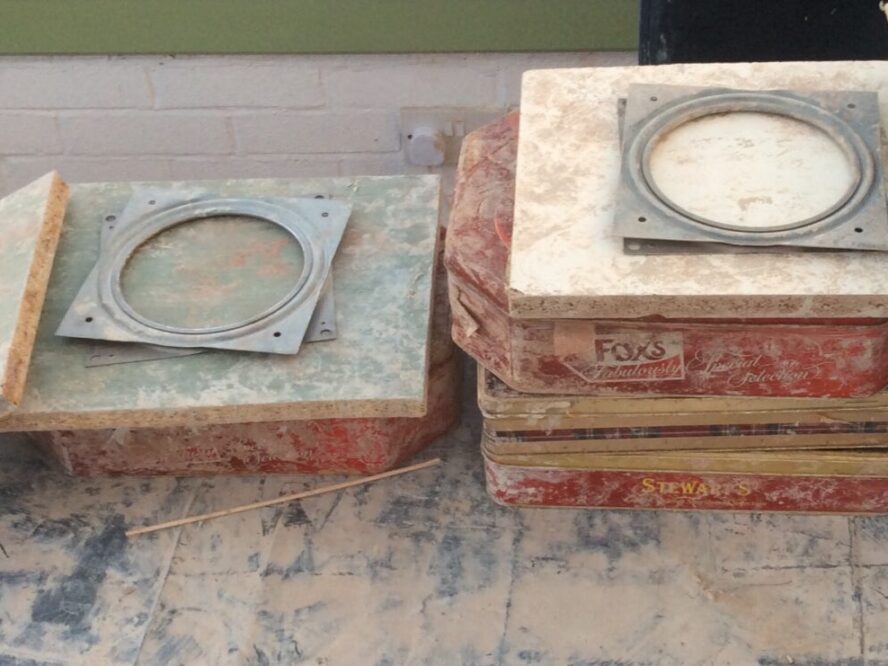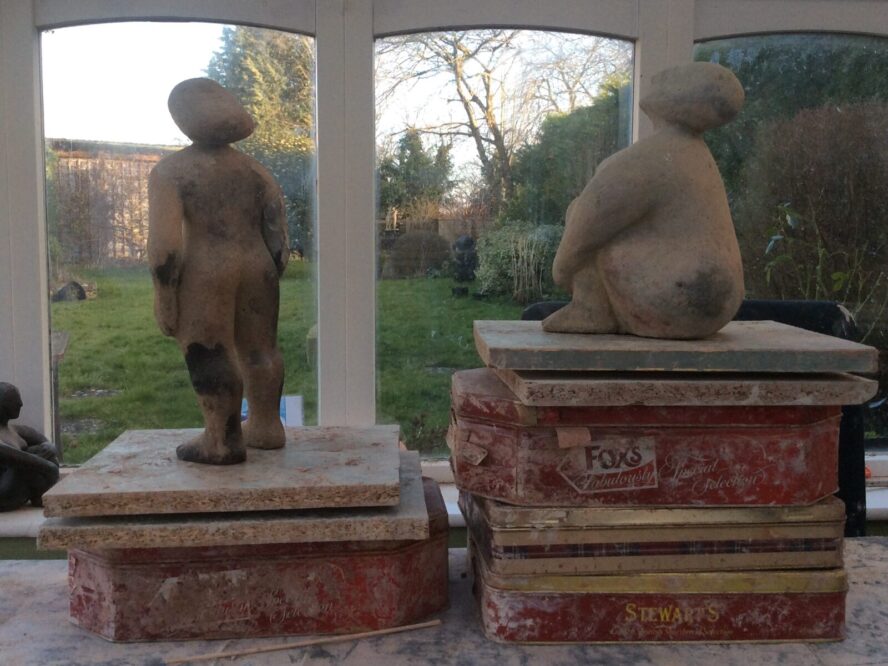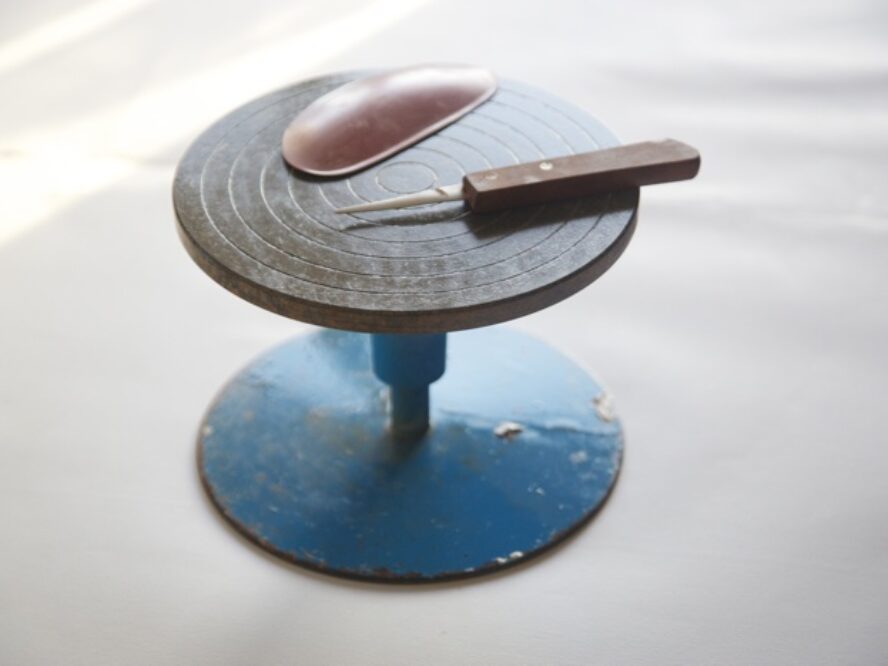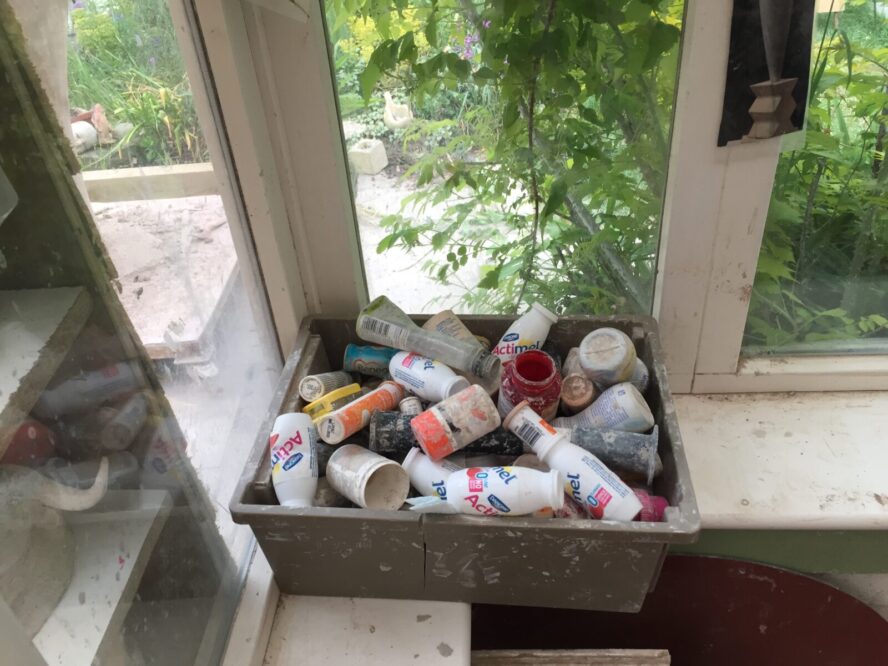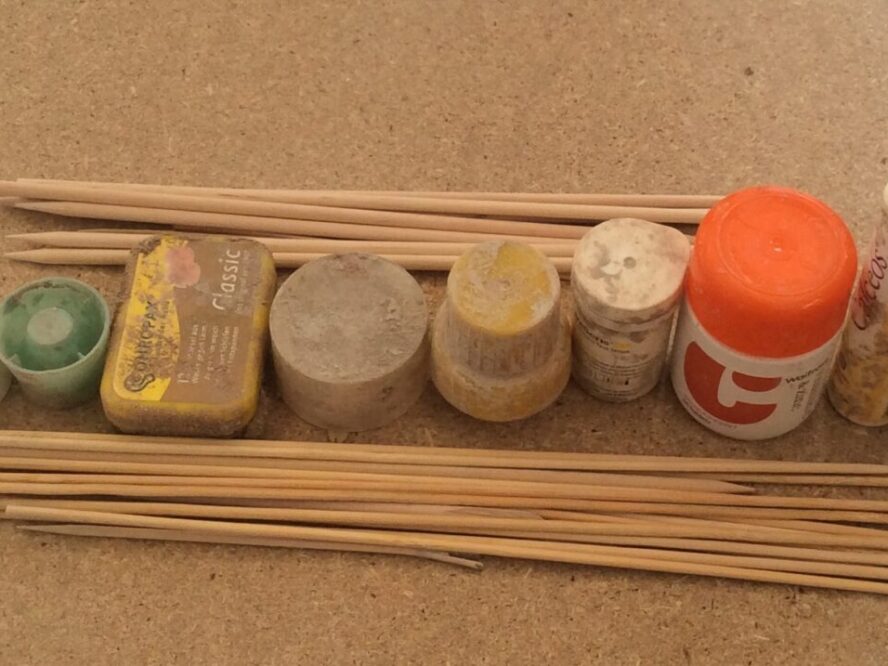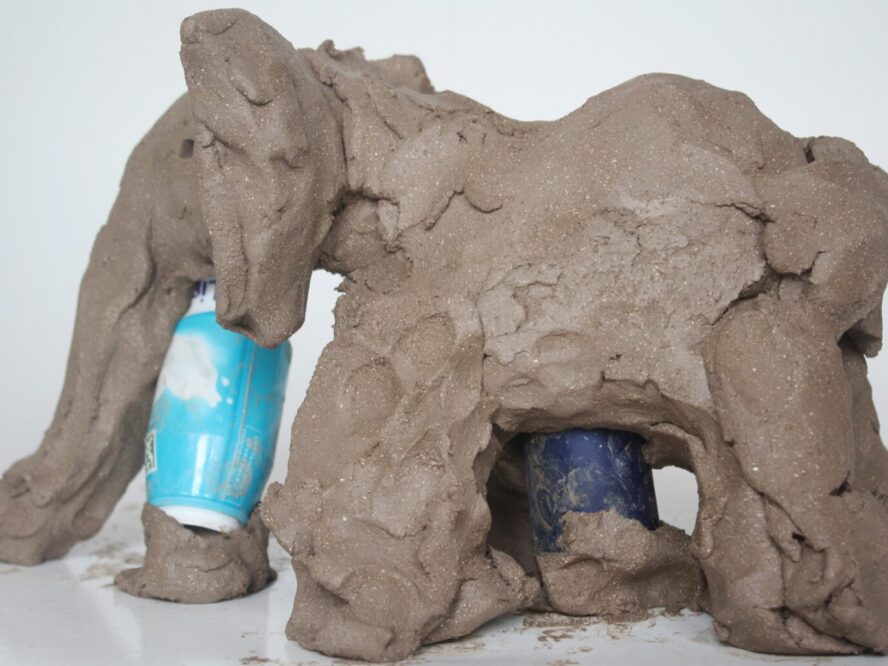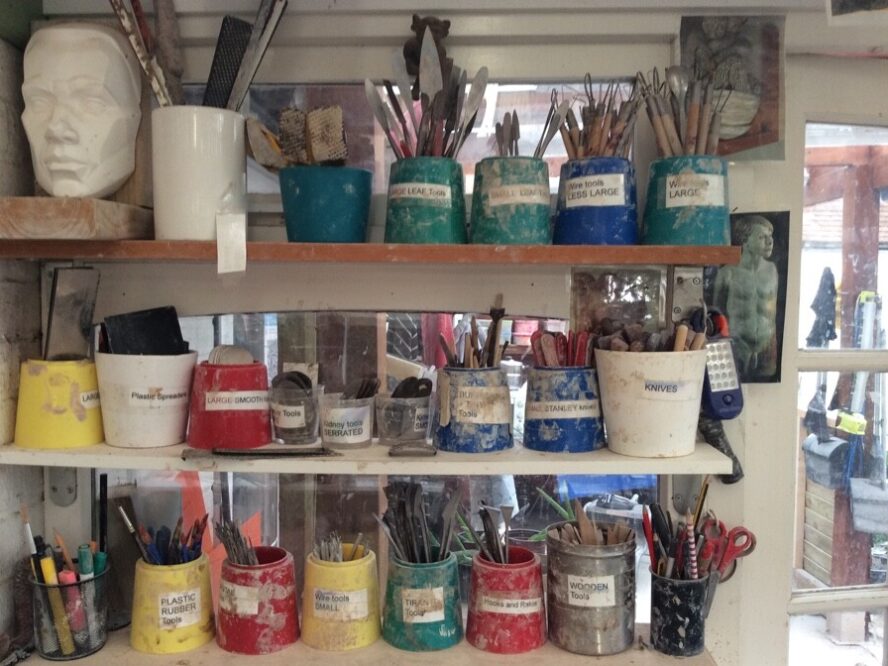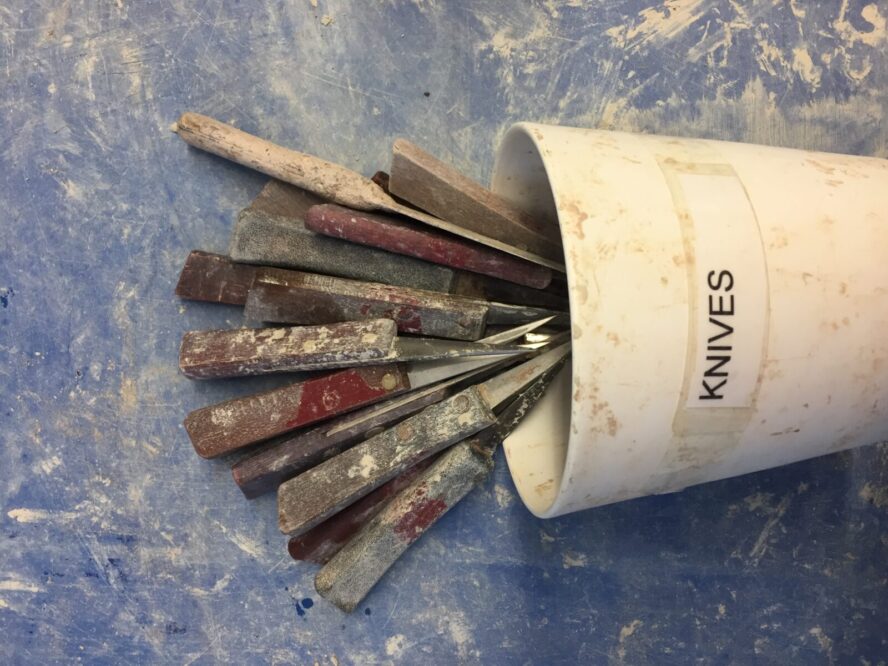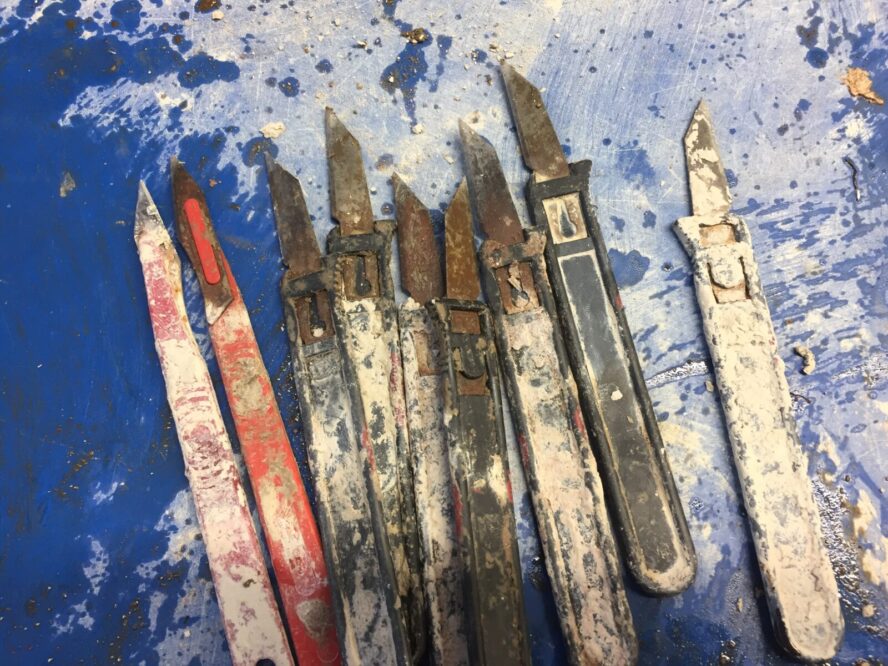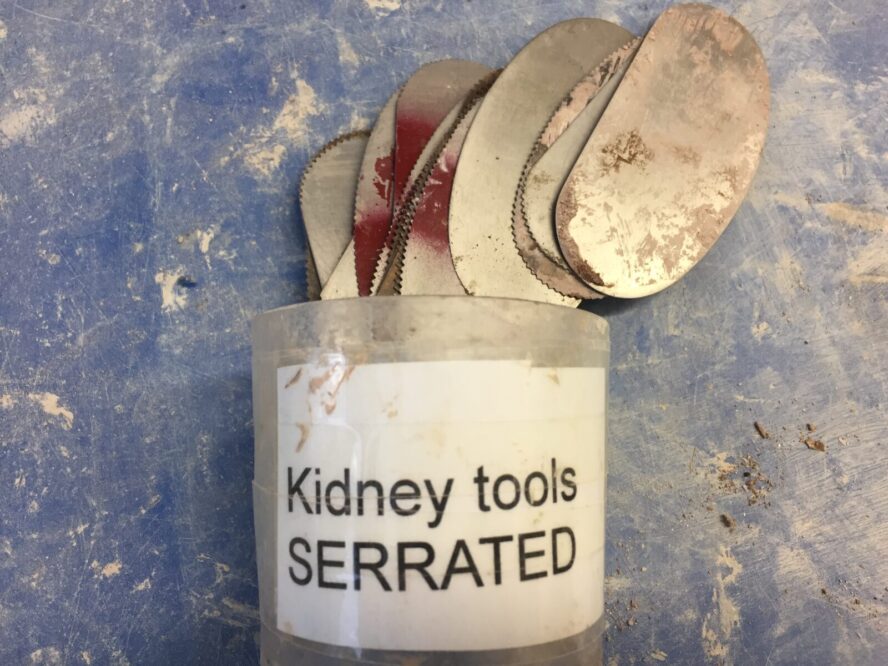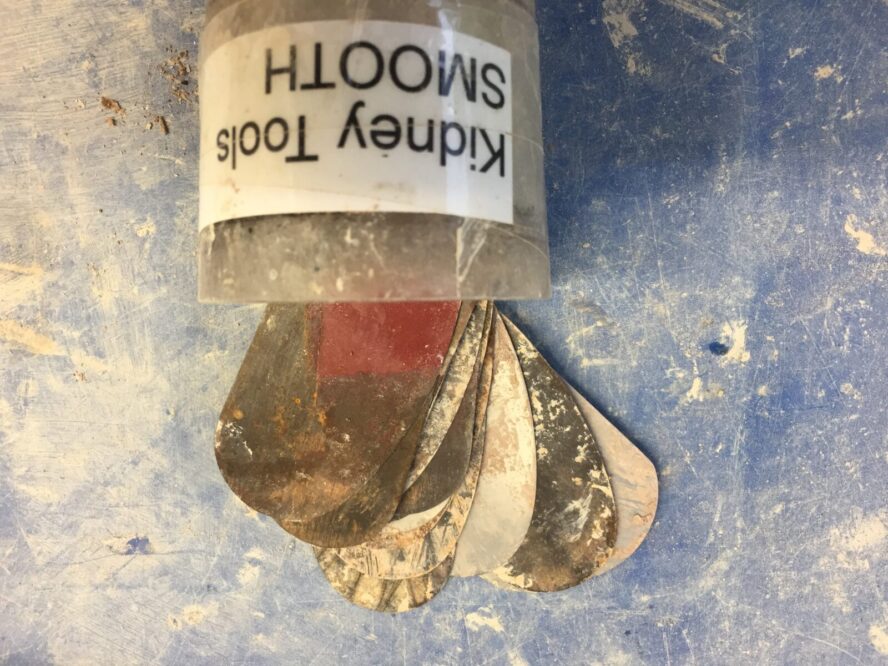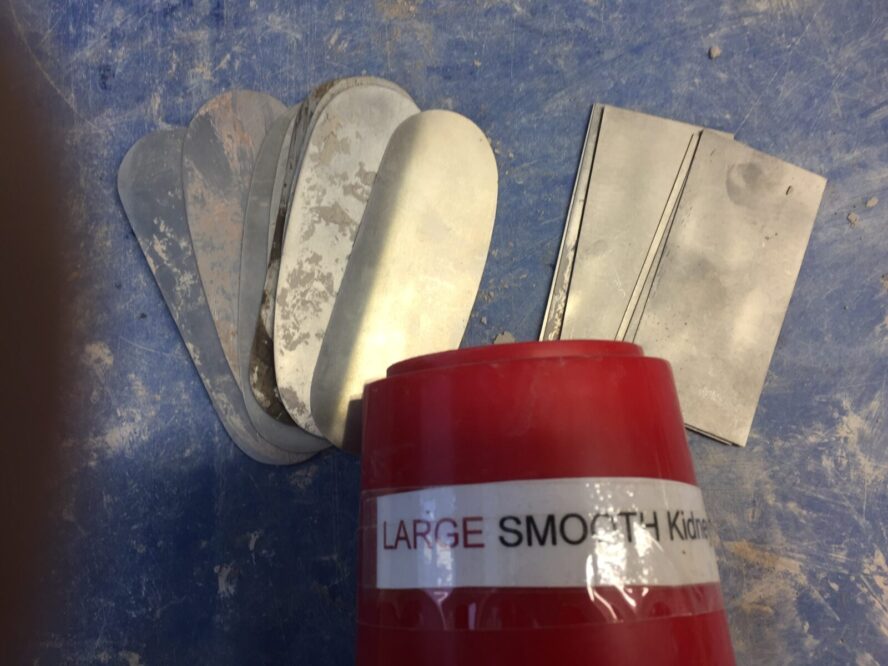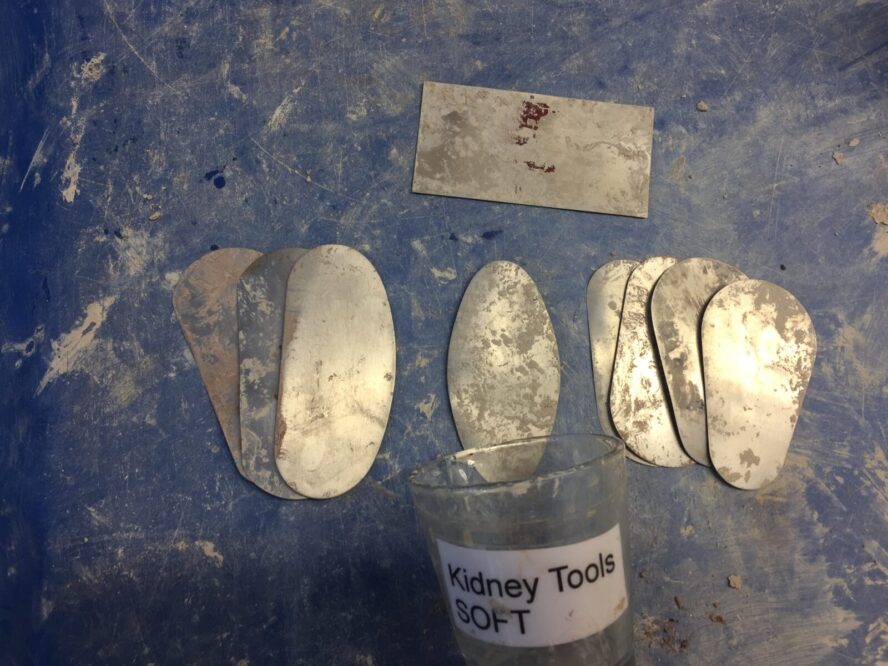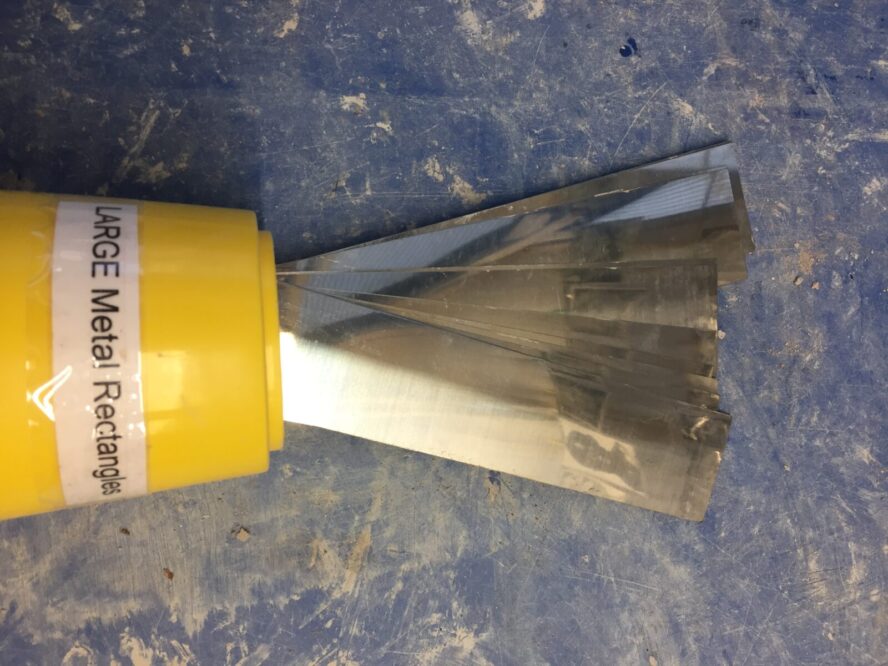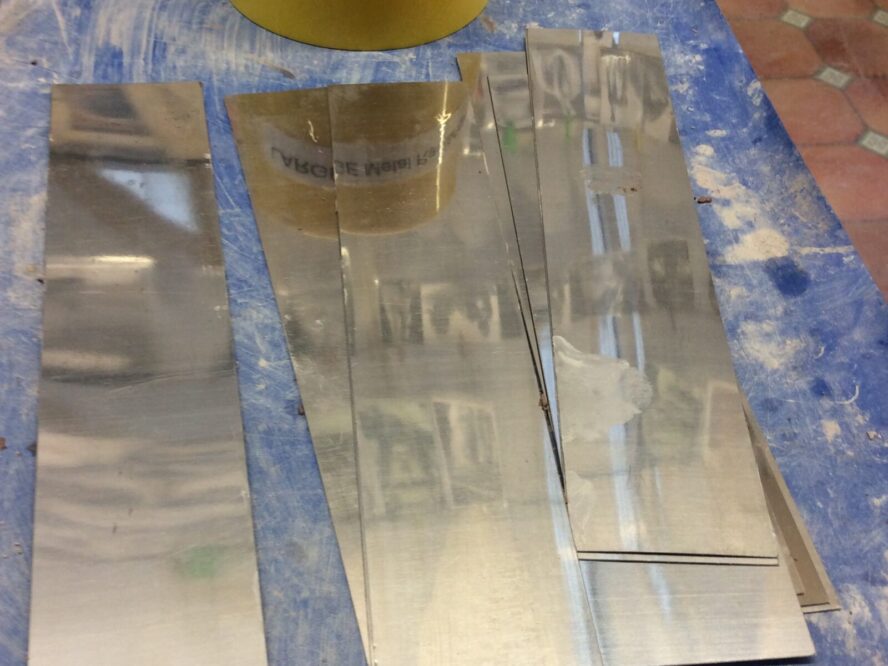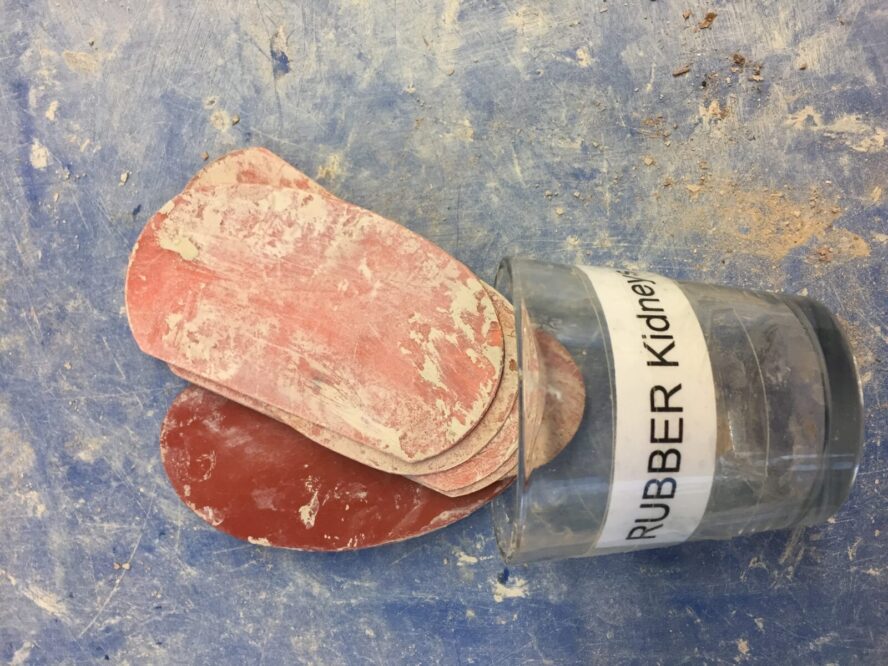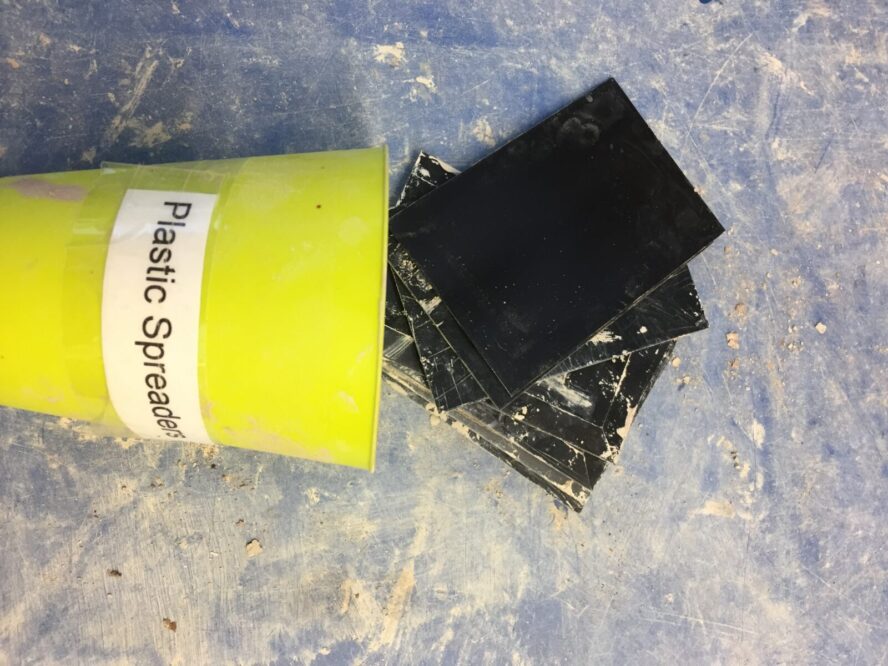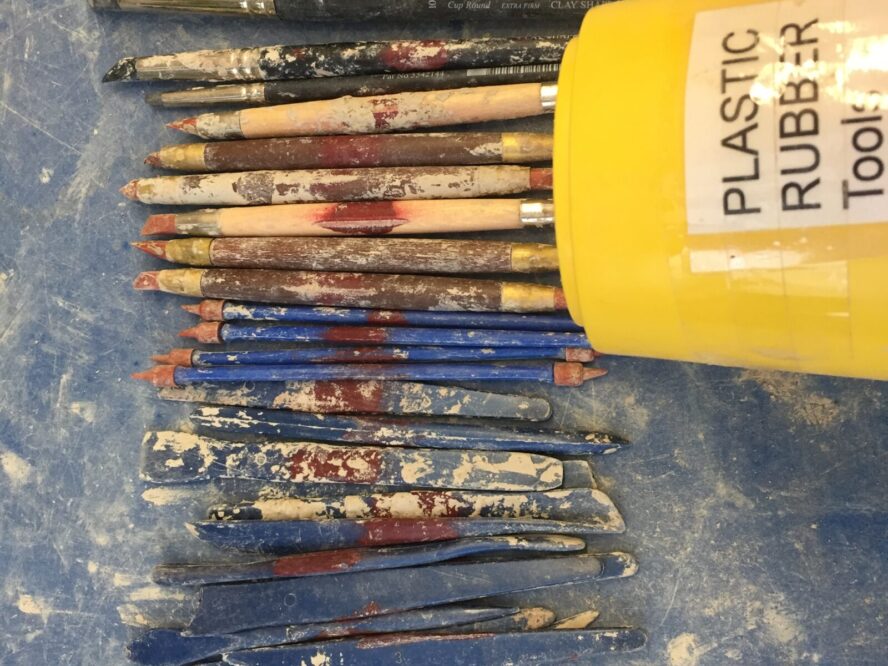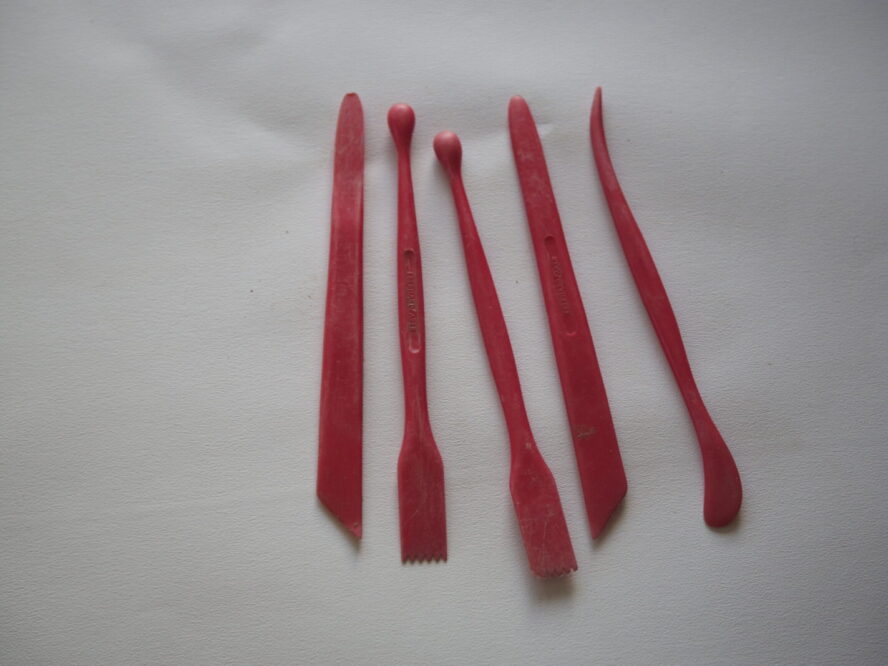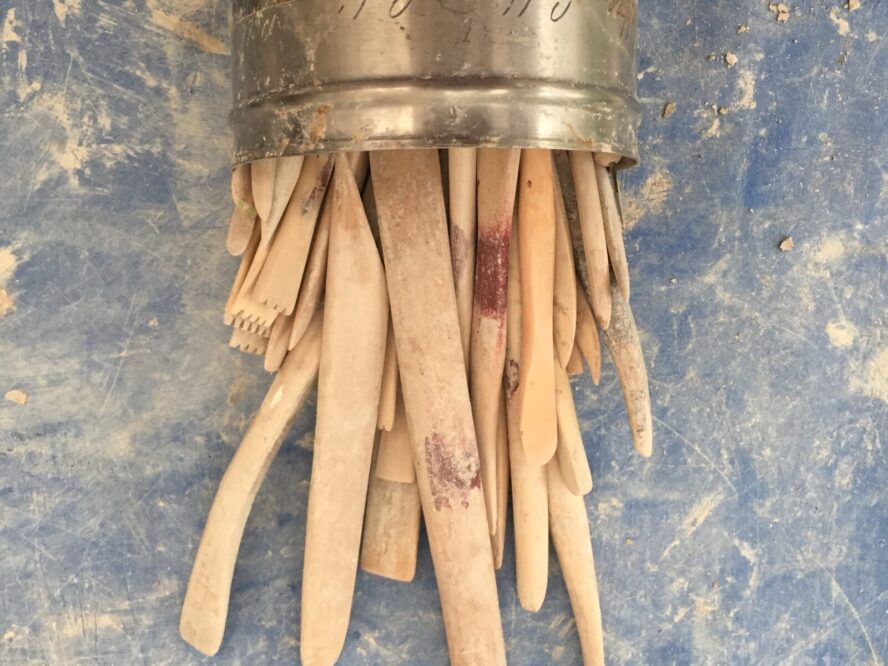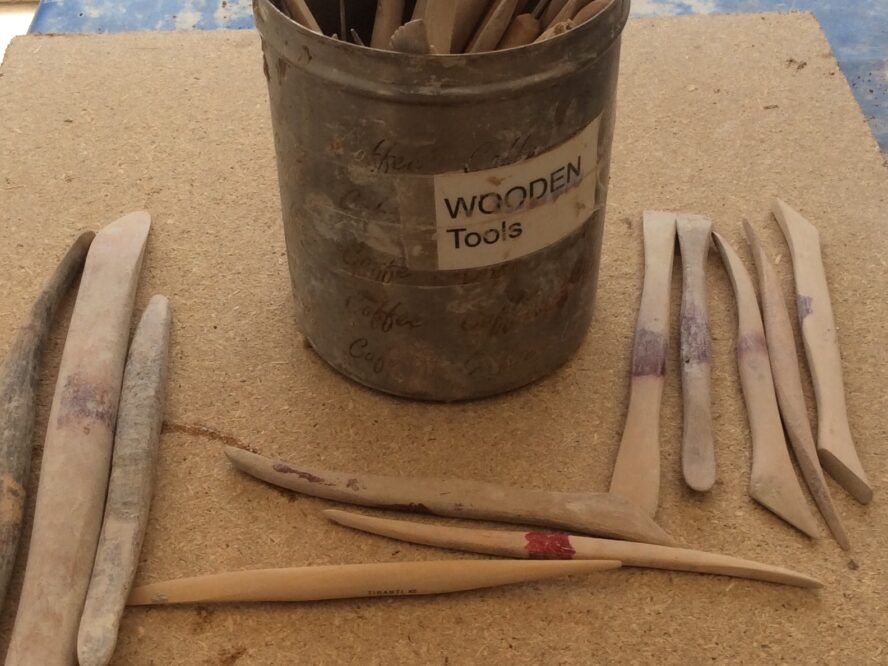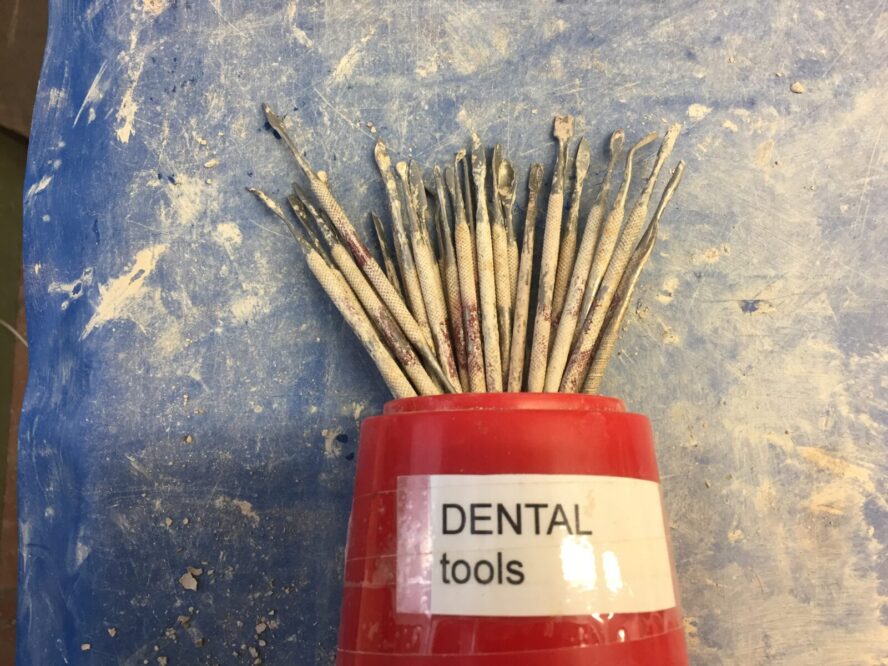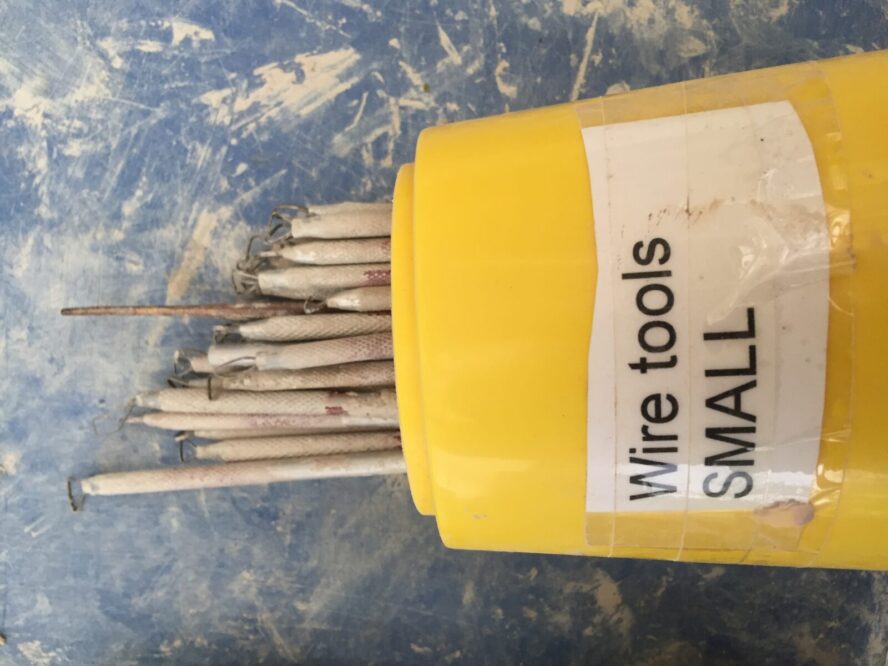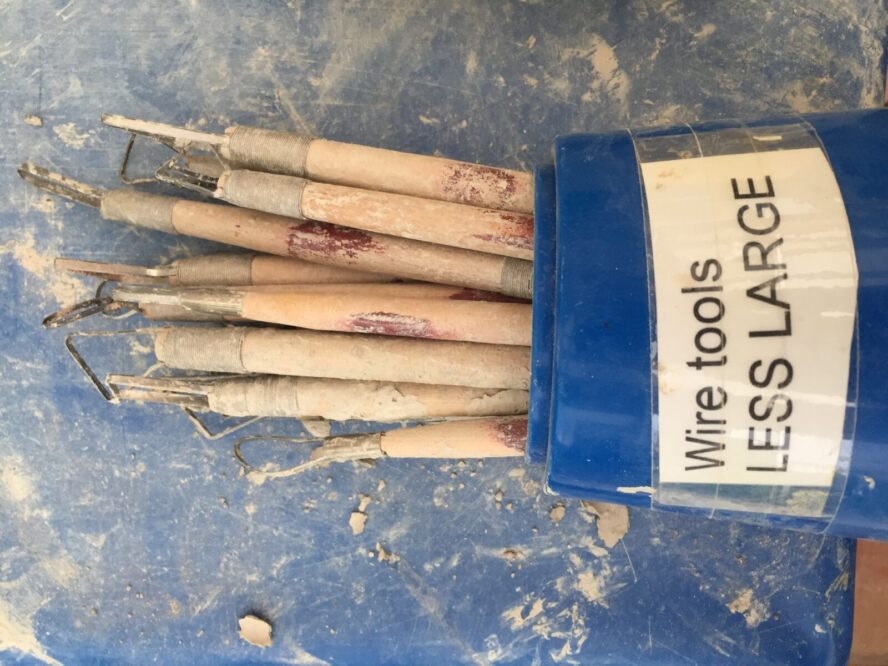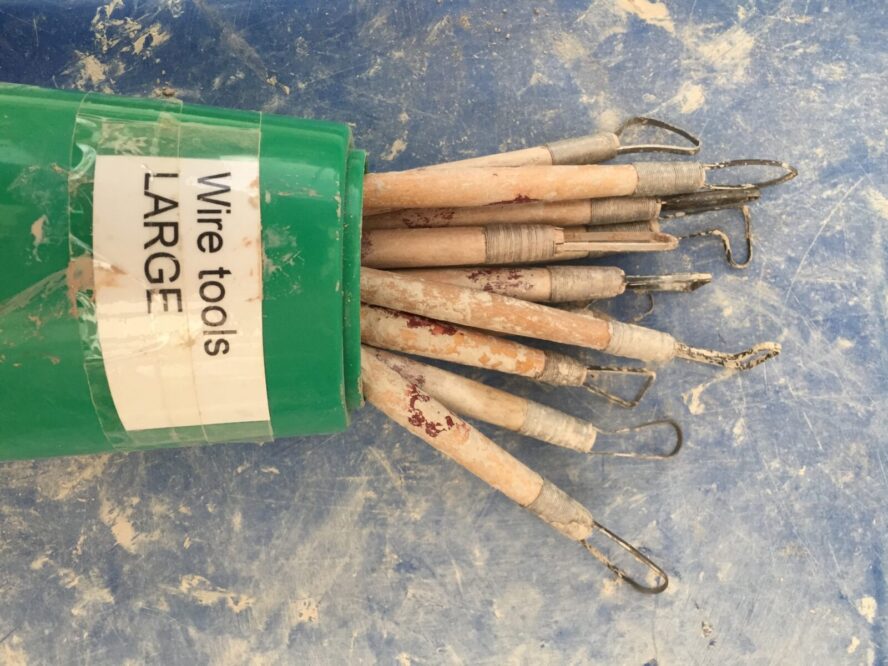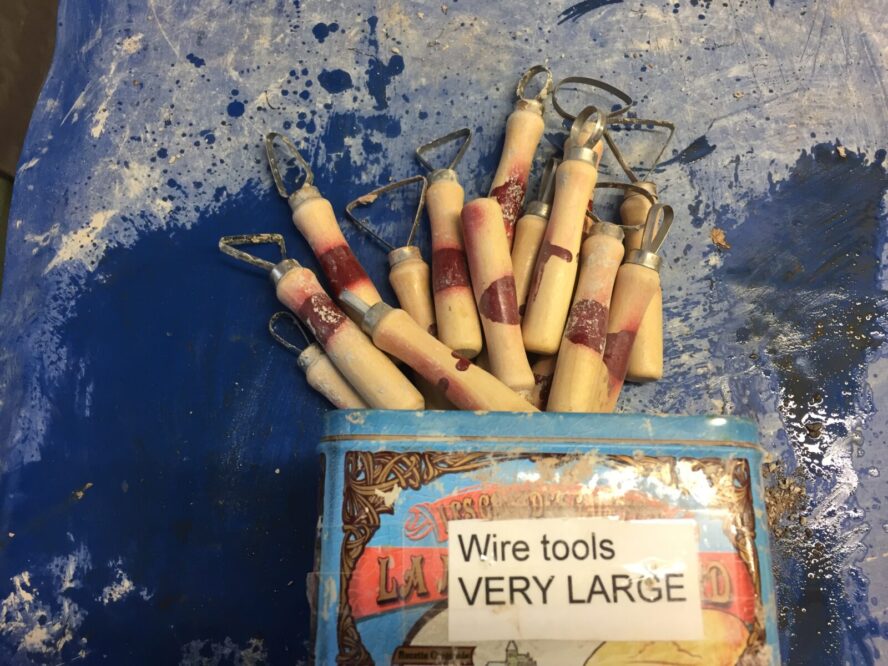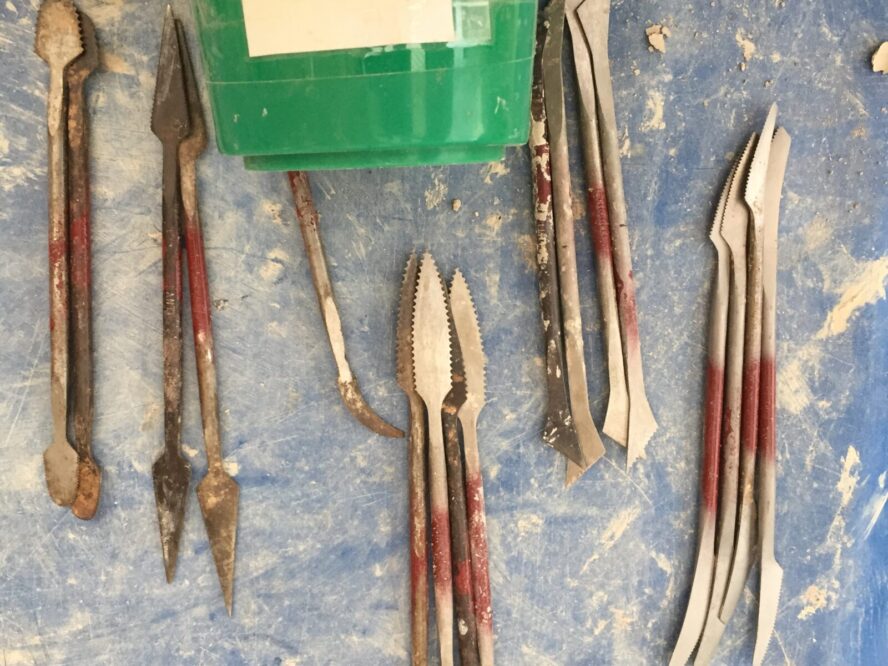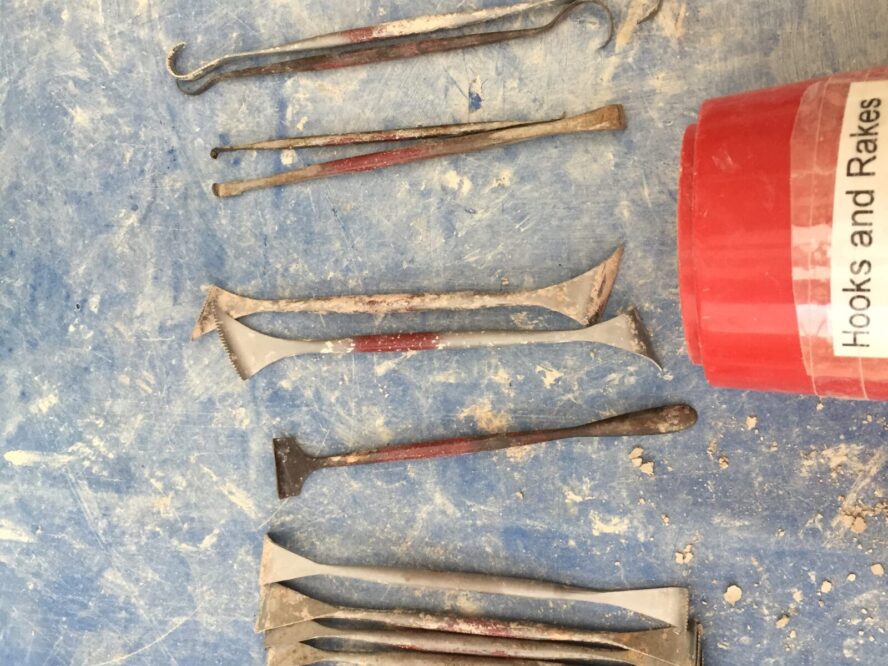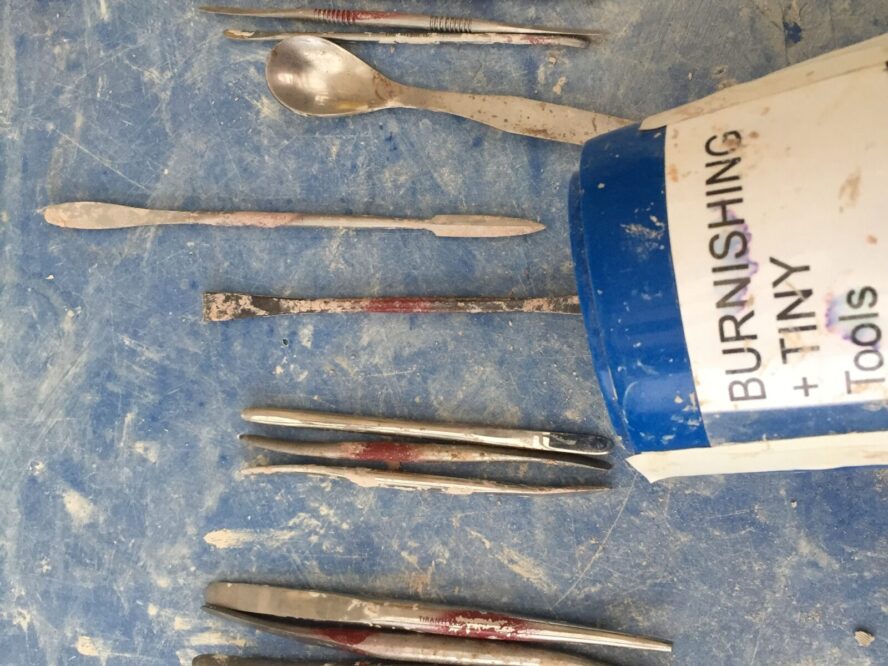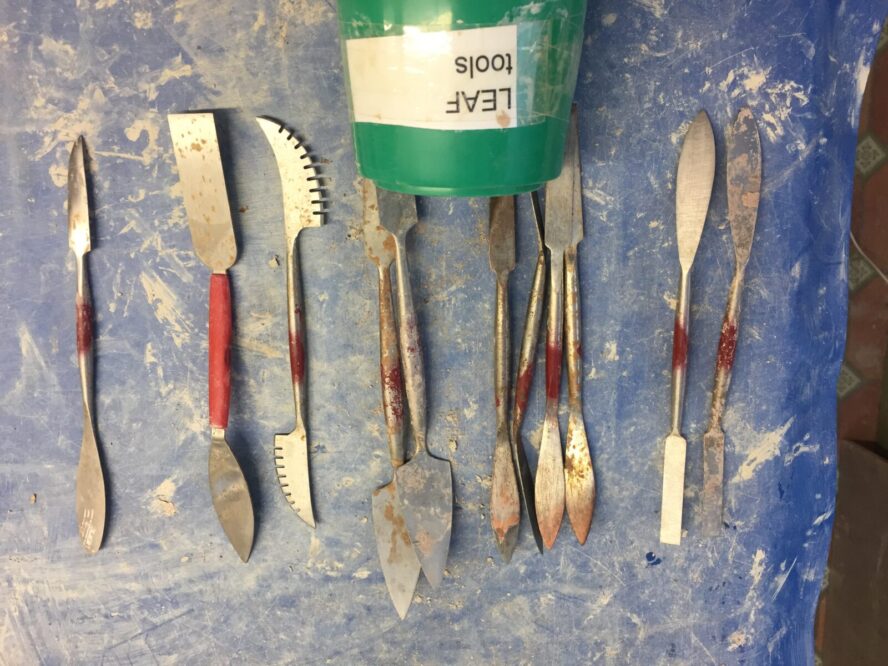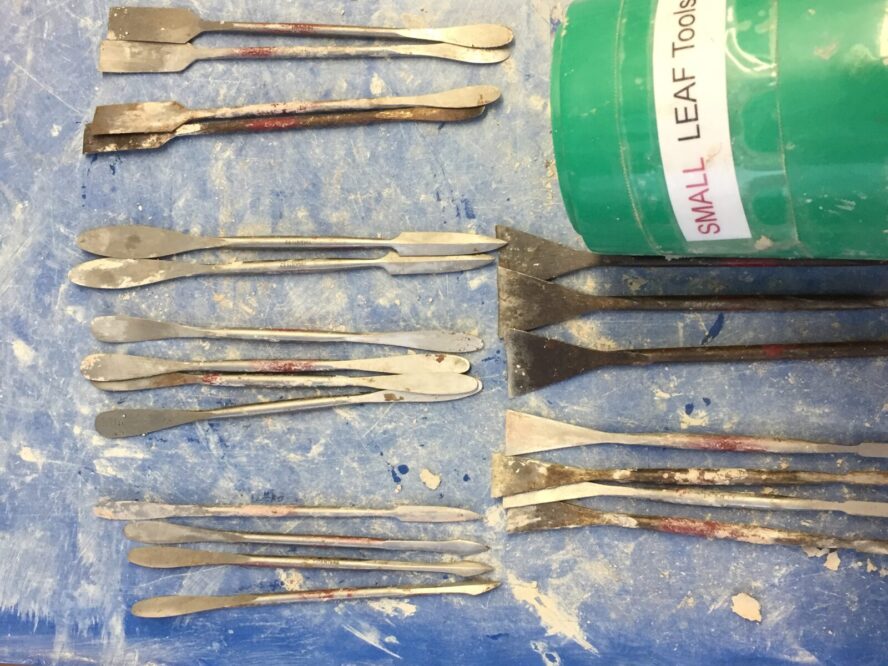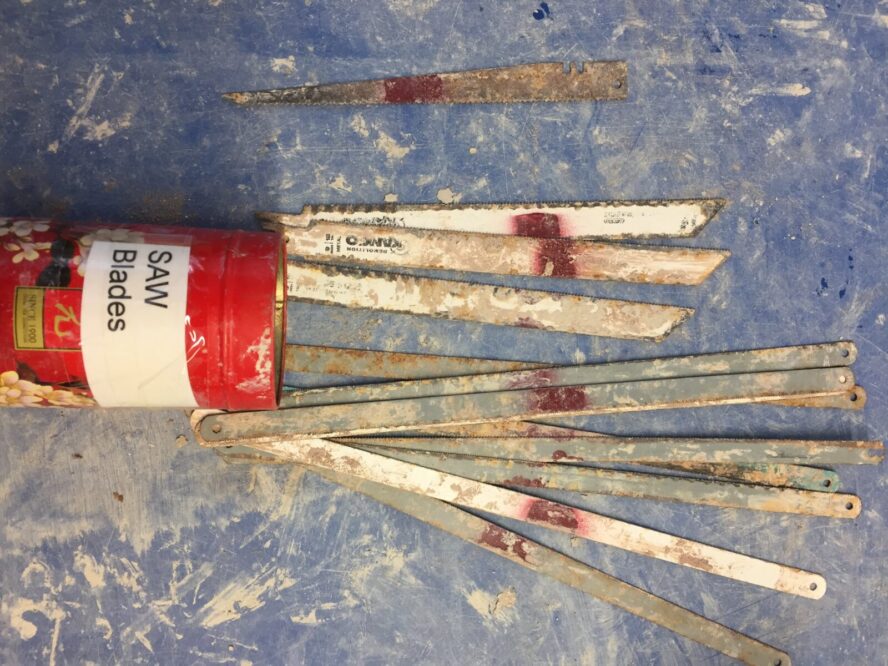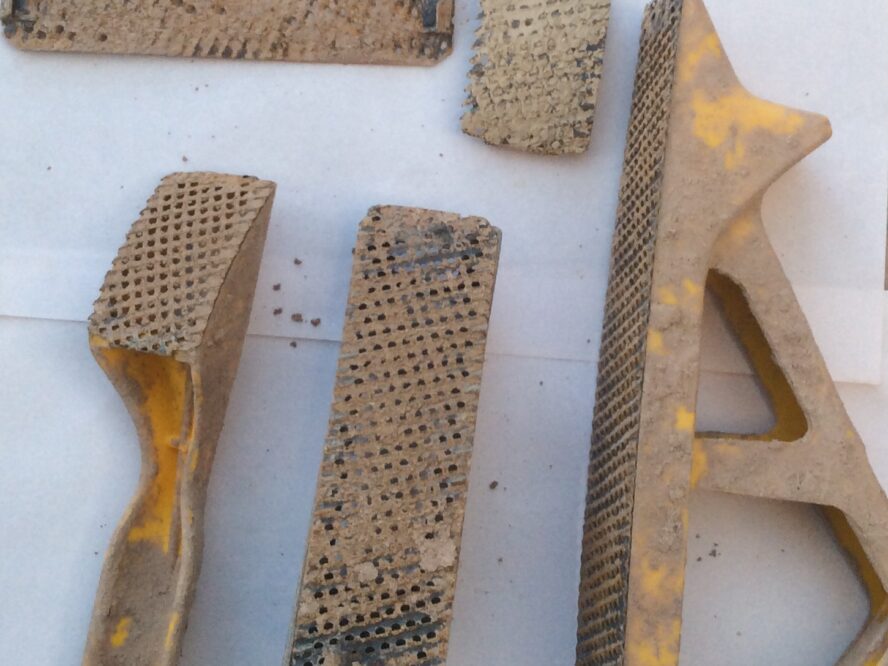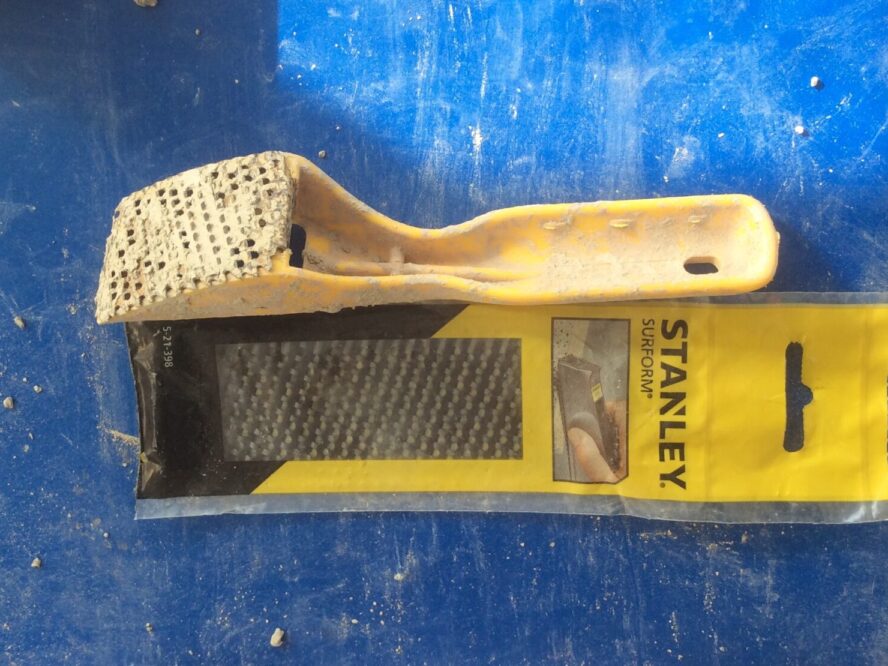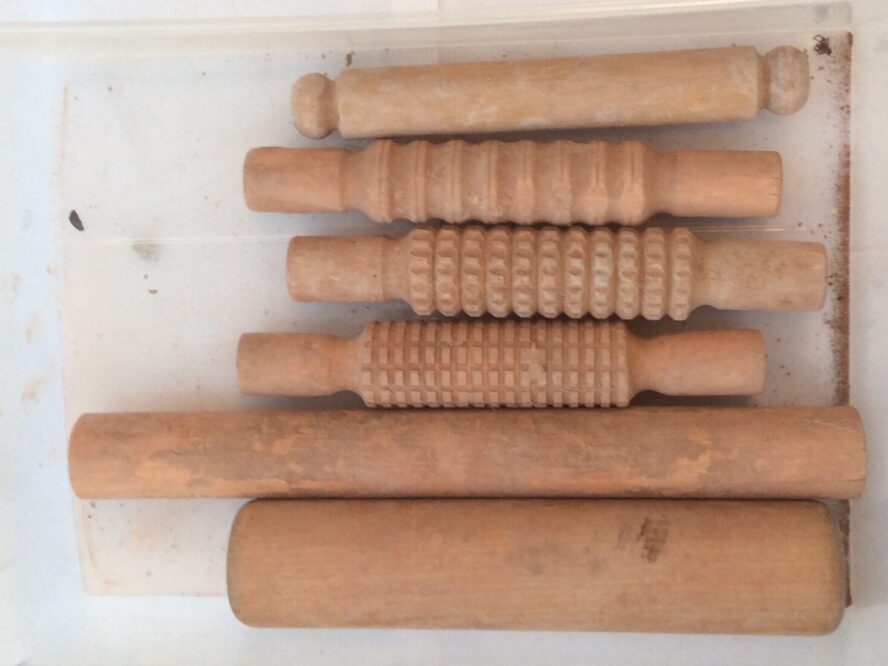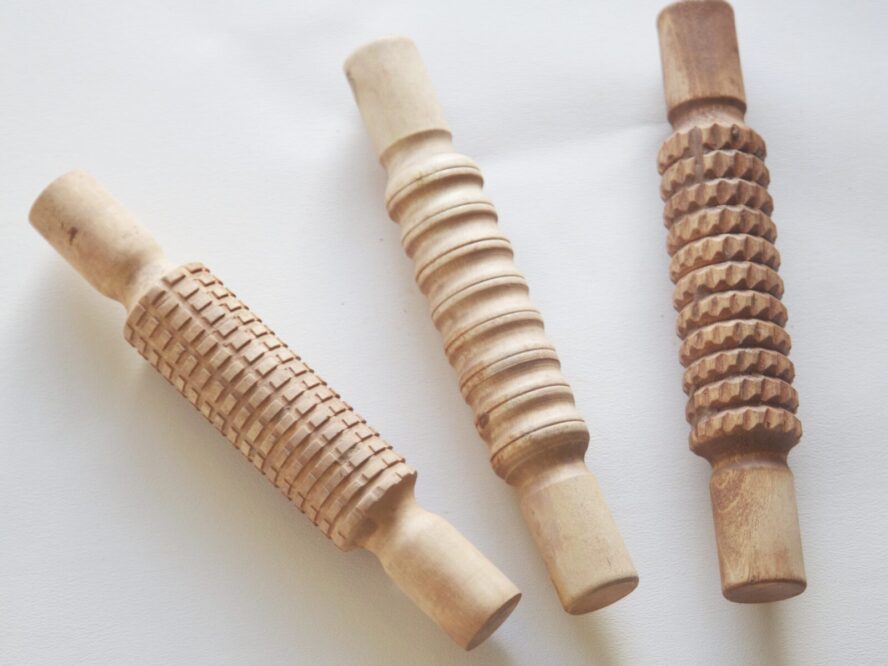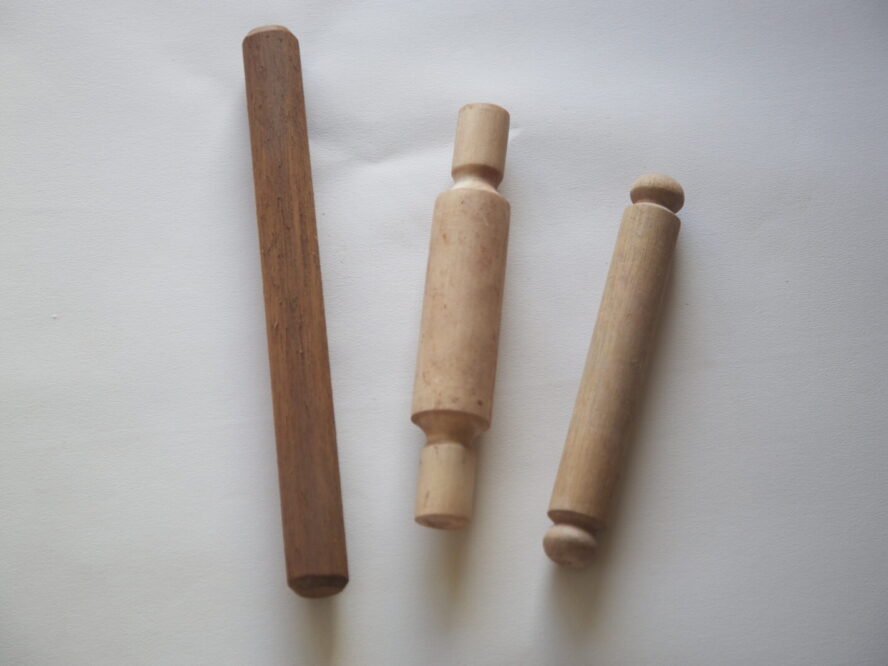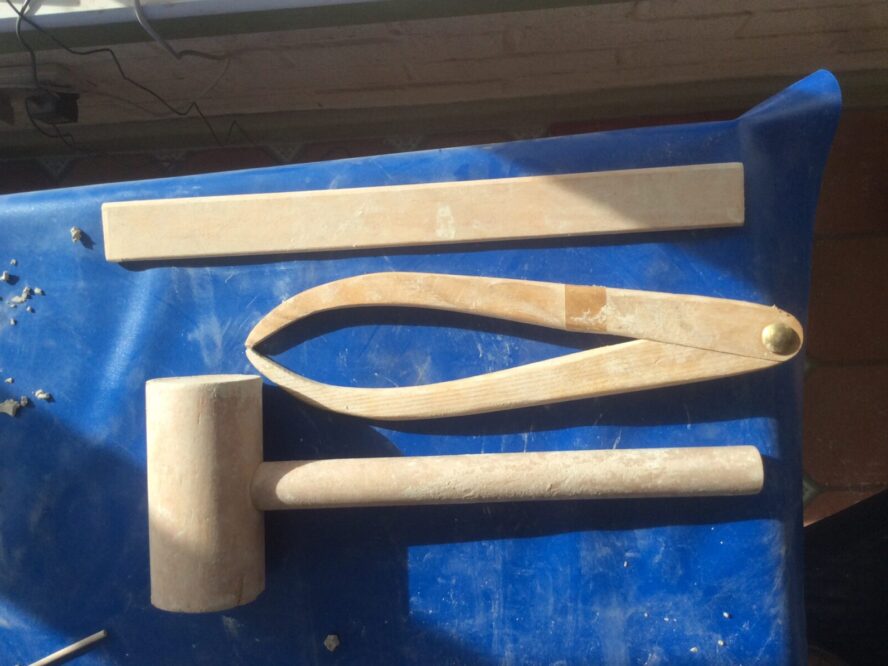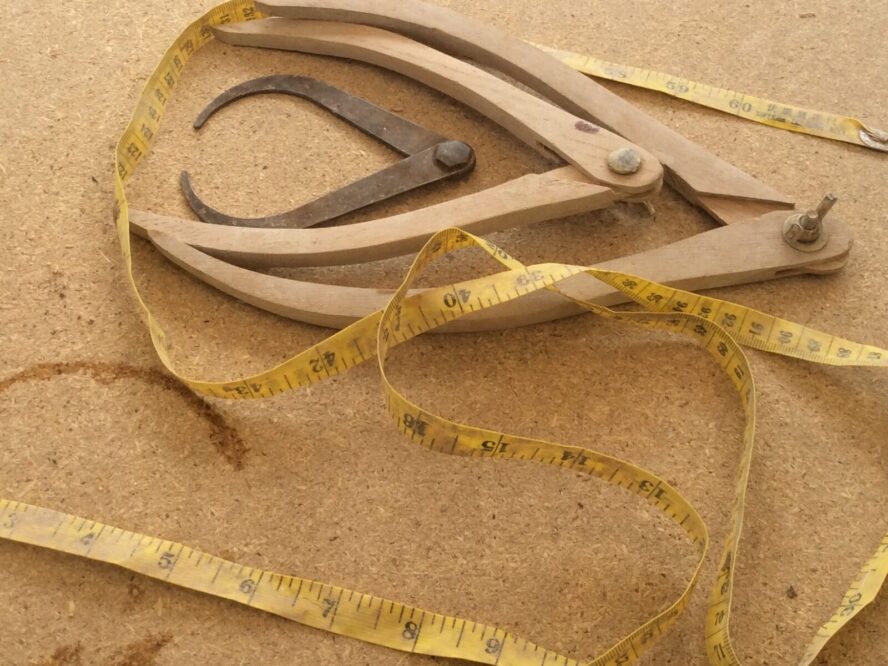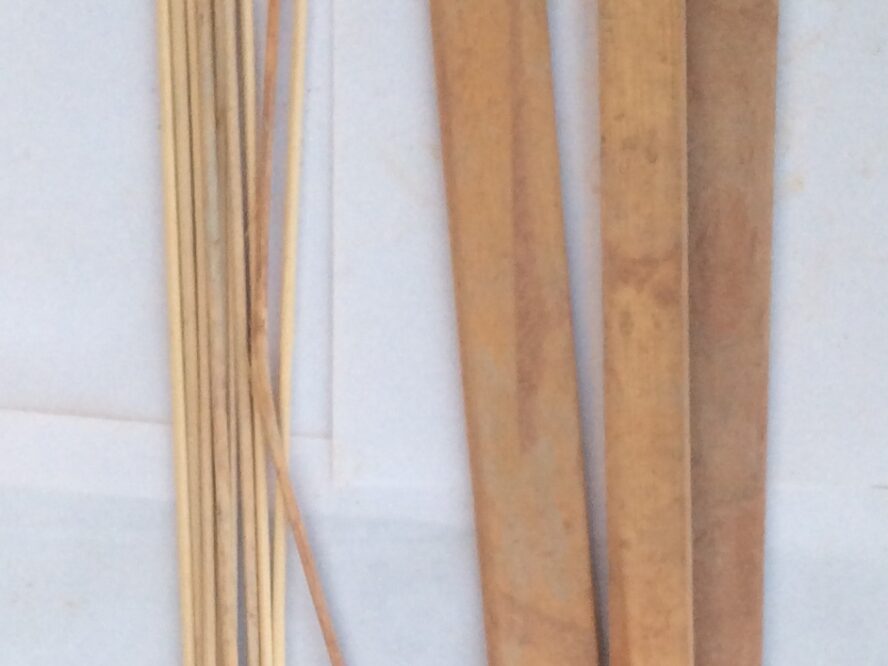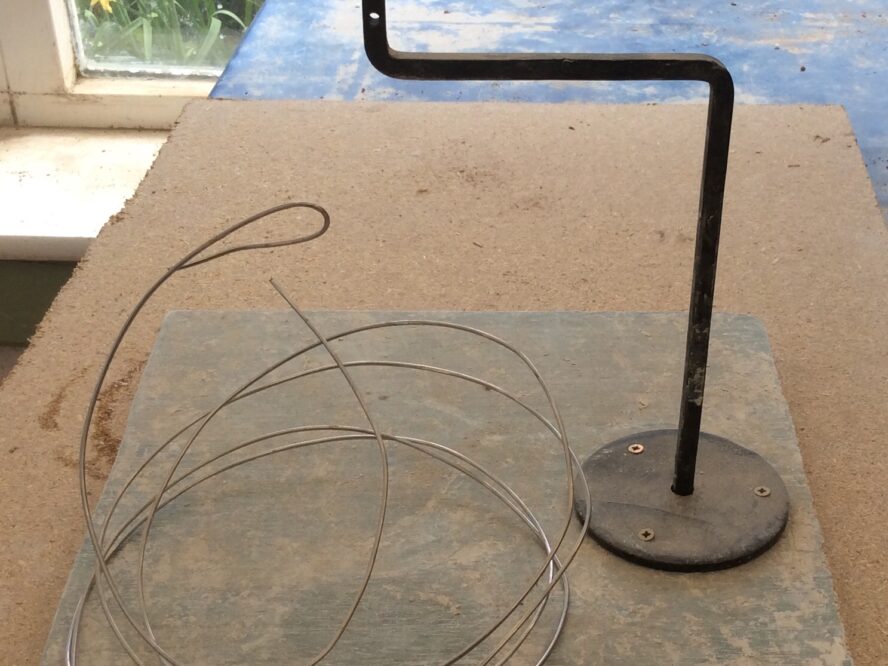 Storing, firing & collection of sculptures
Storing, Firing & Collection Of Sculptures
Sculptures need to be wrapped in two layers of plastic bags to be kept damp, ready to sculpt on in  the next session. If the sculpture is very dry , score and dampen, and/or wrap in a damp cloth.
Regular students store their unfinished  wrapped up sculptures in their designated half-shelves  in the two green sheds round the corner from the studio, against the neighbourly boundary fence. Trial  students store their sculpture relating to the day and time of their next session.
One-off students, who are not sure whether or when they return for more work, should take their sculptures home, and bring them back when they come again .The same applies for students leaving after a term's work, and not sure whether they will return . I have got an issue with storage space –  and stored sculptures  can easily get mislaid , if their owner does not return soon .
I cannot store sculptures for longer than 3 months –  after that they might dry up, and I will need to recycle them.
I have got a large kiln (  )  in the shed at the back of the garden; once this can be filled, I run a firing, every 6-10 weeks approximately in term-time. With a very tall  sculpture, I might have to wait longer to  find an equally sized sculpture for a kiln shelf.
The cost of a fired sculpture is determined by size (height of shelf needed), weight , and kind of clay  used –  though this is not a scientific method, but based on experience.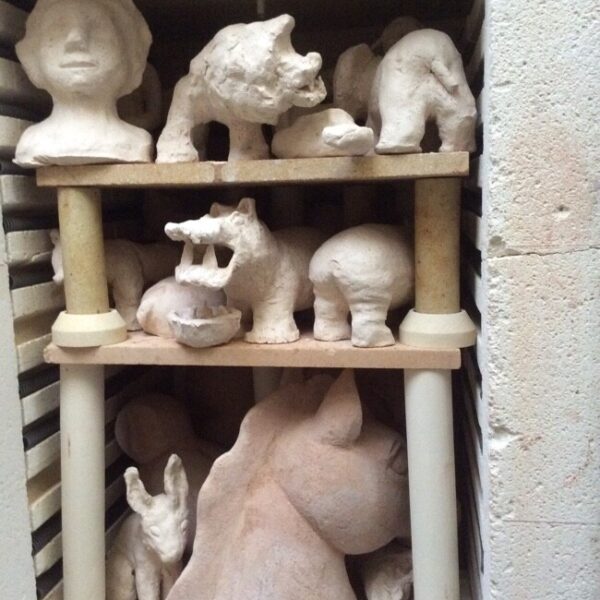 Is not included in the tuition fee. Obviously it varies depending on the sculpture, and  is charged at cost only , depending on the amount of clay used, and the space taken in the kiln. It needs to be paid for in cash, if possible.
I only store two kinds of stoneware, grogged clay, which you can buy if you want to work form home:
1. £8.50 "Grey Crank craft", fires off-white/light-beige
2. or £12.50 "Pink Craft Crank Mixture", fires orange to dark beige at bisque temperature
Studio etiquette & Tyding Up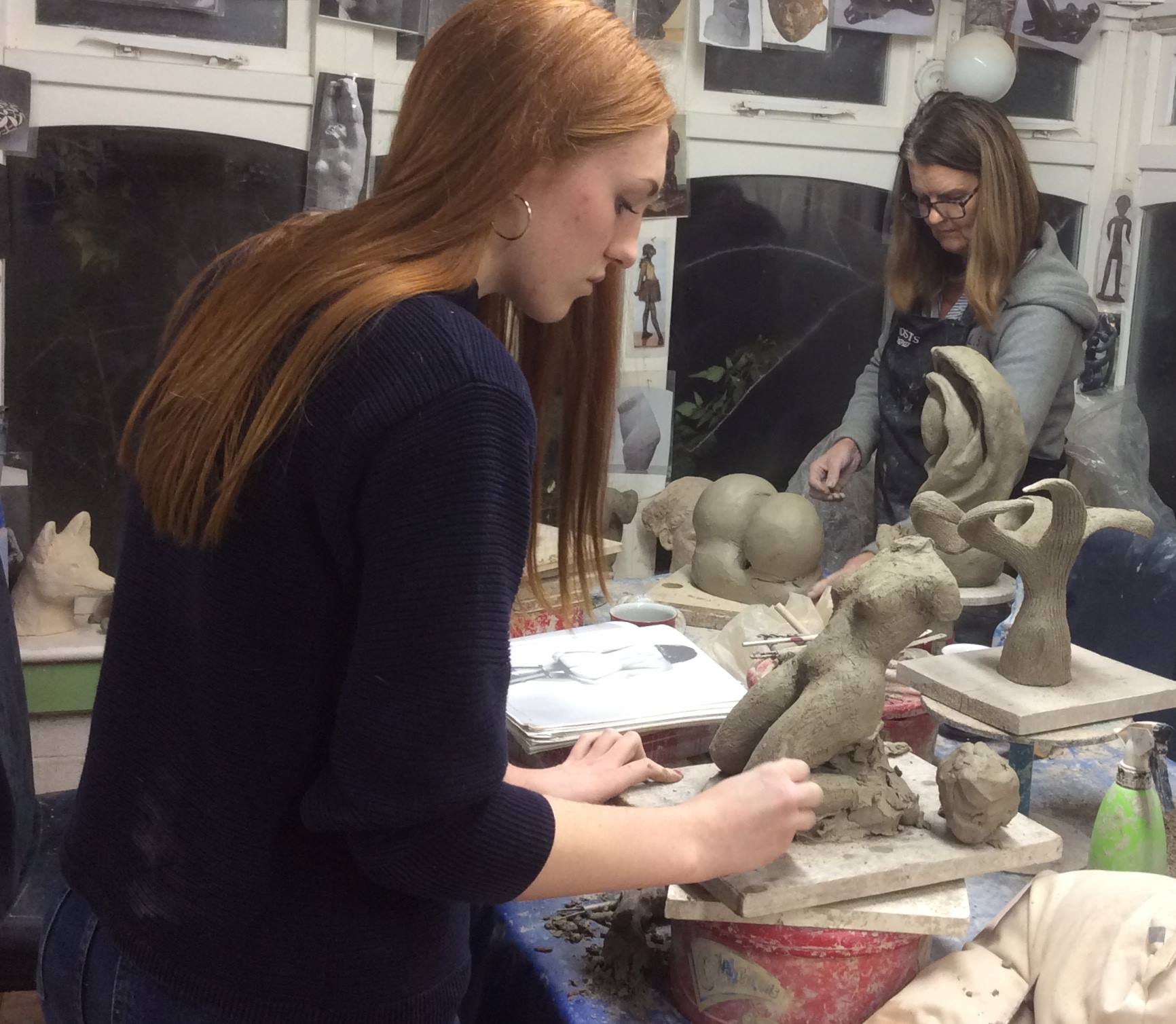 Studio Etiquette and Clay Recyling
Please mute your mobile phone, or if you can, shut it down. If possible, take your  Mobile phone conversations outdoors.
Clay is constantly recycled and kept damp in plastic tubs, of a different consistency for different purpose:
1. Very wet ("slip") –  suitable for gluing hard parts of a sculpture together
2. middle soft , for "buttering on " layers of clay with the kidney tool
3. Normal/hard: for ordinary sculpting
4.  Very hard, pre-dried clay to start a sculpture is kept on the window sill  either side of the entrance of the conservatory
5. To collect dry clay at the end of your session , use a special  tub  for that purpose, and don't mix the small hard bits (cuttings or shavings from carving) into the containers of "good "  useable clay.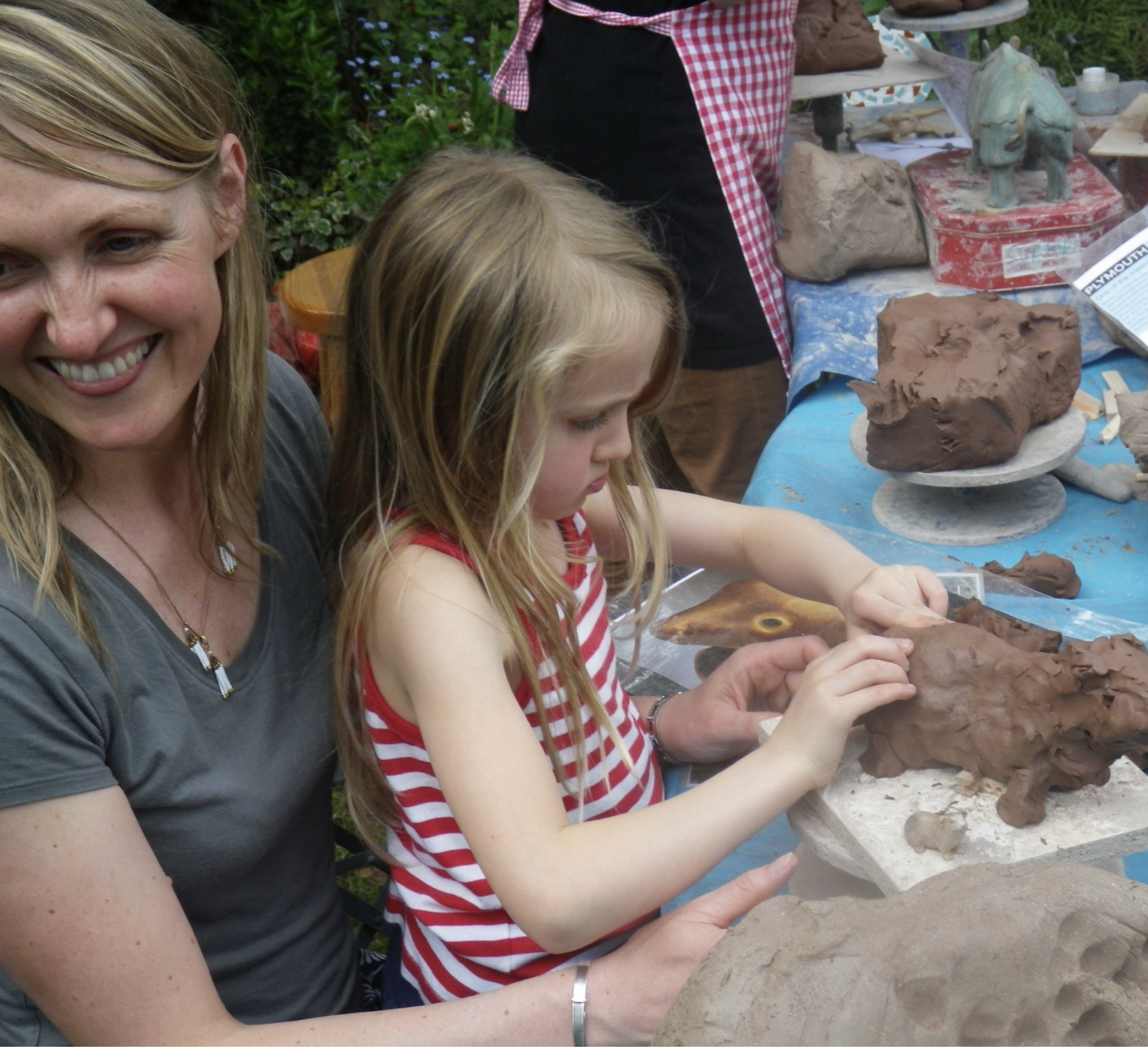 is undertaken  communally in the last ten minutes of the session:
1. On the first session of starting a sculpture, leave your sculpture on the table to dry. 
2. In all other cases,   store  the sculpture  wrapped up in plastic outside in the sheds, on the shelf reserved for weekday/time of your group. Cover the sculpture from below with a plastic bag, and if necessary another one from the top ,  to avoid the sculpture  drying out .
3. Clean your table: empty the table surface; scrape  remaining clay bits  with a square tool, or a brush, into a plastic tub .
4. Keep the clay damp in its plastic box by closing the  lid firmly ; possibly score and spray to re-dampen it
5. Clean table, tins, turntable with antiseptic spray and a cloth
6. Clean tools with antiseptic spray , and wire  wool;  Leave the tools on the table, return books to the library
7.  Sweep around and underneath your table